One issue that can be intimidating for many guests staying at Disney's Pop Century is figuring out how to travel from the resort to the theme parks, shopping areas, and other Orlando area activities.
I know when our family travels to Disney, knowing our transportation options BEFORE arriving is incredibly comforting.
In this post, you will learn about all the modes of transportation available at Pop Century Resort so you know EXACTLY how to get where you need to go.
5 Transportation Options at Pop Century:
---
Option #1: Hop on the Disney Skyliner!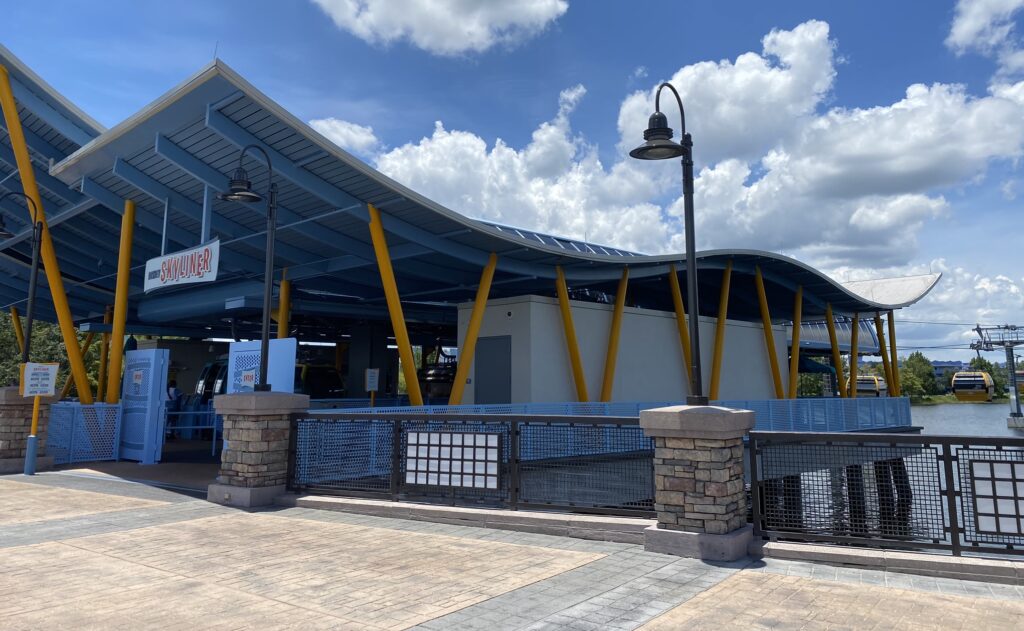 One of the best things about staying at Pop Century is that you can walk to a boarding station for the Disney Skyliner! Only a few Disney resorts have direct access to the Skyliner, so this is a great benefit.
In case you don't know, the Disney Skyliner is a transportation system consisting of suspended cabins that move through the air. It gives some incredible views of Walt Disney World, along with being fun, convenient, and relaxing. My kids love riding in the Skyliner as opposed to the Disney buses!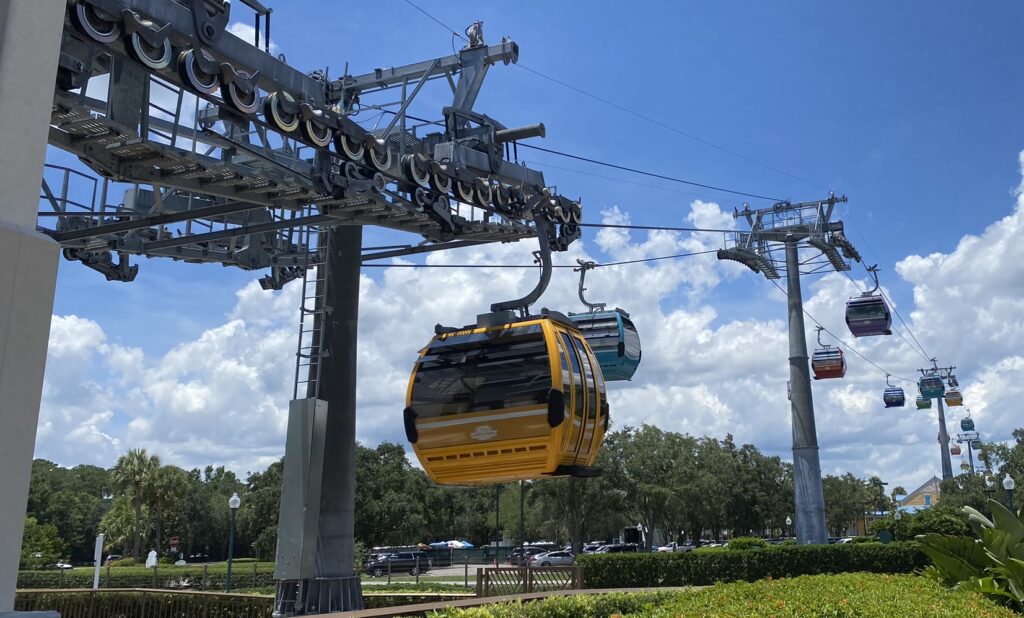 The Disney Skyliner can take you to Hollywood Studios or Epcot from Pop Century.
To find the boarding station, head to the back of Pop Century and look for Hourglass Lake. The entrance to the boarding station is found at the center of the bridge that crosses the lake!
Look at the map below to see exactly where the Disney Skyliner is located in relation to Pop Century. You should have less than a 5-minute walk to the boarding area no matter where you stay at the resort!
Once you have boarded the cabin, prepare for a wonderful view as you rise over Hourglass Lake and ride to a connecting station at the Caribbean Beach Resort. This journey only takes a few minutes, so don't get too comfortable. 🙂
Here is the view from your cabin as you soar past Pop Century!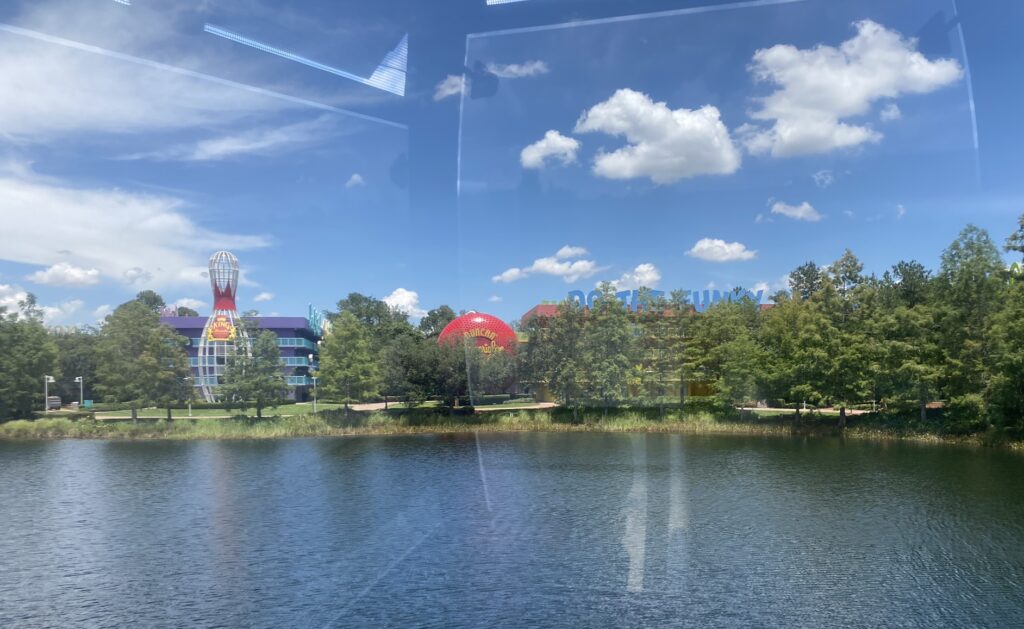 At the Caribbean Beach Resort connecting station, you will get out of your cabin and take a short walk around the corner to board another cabin. You need to pay attention to the signs because there are separate lines, depending if you want to go to Hollywood Studios or Epcot.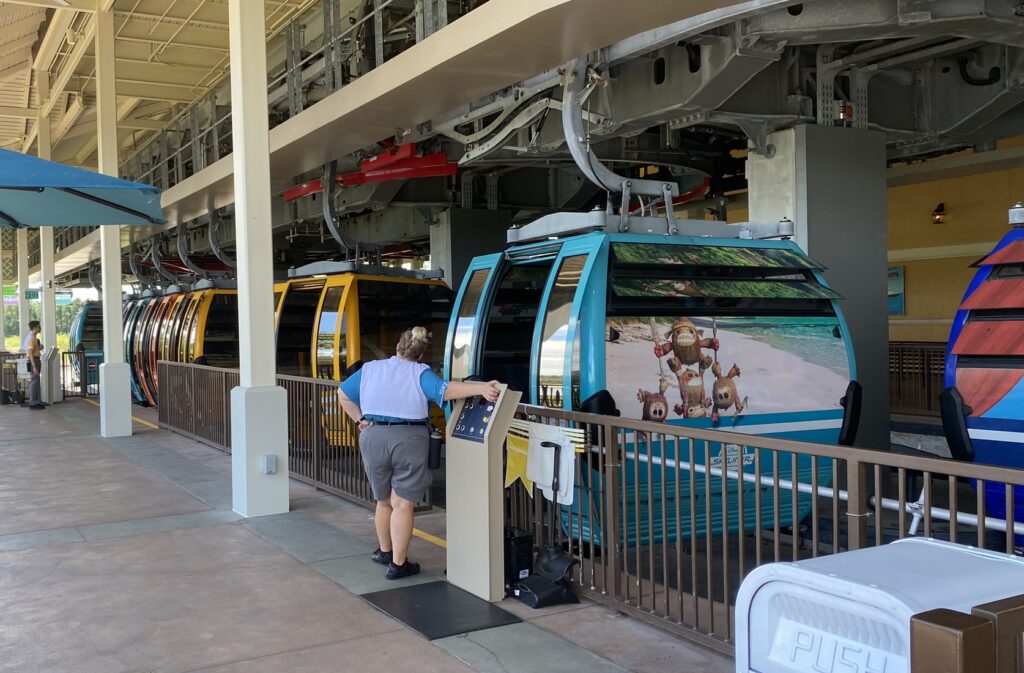 In case you get confused, there are many Cast Members around to help point you in the right direction.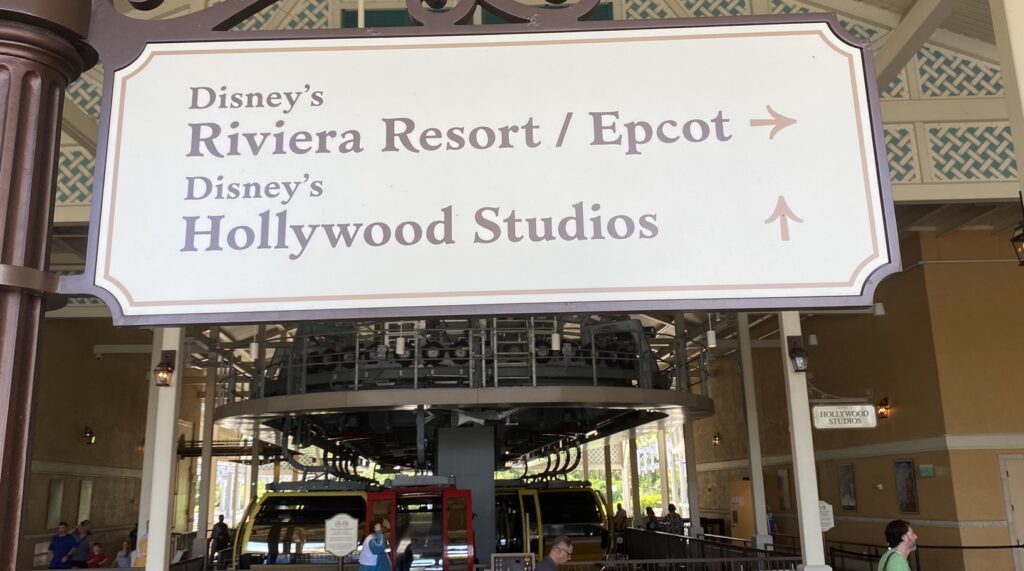 How long does the Disney Skyliner take from Pop Century to the theme parks?
The assumptions below assume there are no lines to wait in at the Caribbean Beach connecting station.
Hollywood Studios:

Once you have boarded the cabin at Pop Century, it takes about ten minutes to get to Hollywood Studios.
Epcot:

Once you have boarded the cabin at Pop Century, it takes about twenty minutes to get to Epcot. It takes longer to get to Epcot than Hollywood Studios because the second ride from the Caribbean Beach to Epcot is farther away. You must also slow down and go through another connecting station at the Riveria Resort (but you don't have to leave your cabin).
Just so you know, when you arrive at Epcot on the Skyliner, you will be at the International Gateway entrance, which is at the BACK of the park.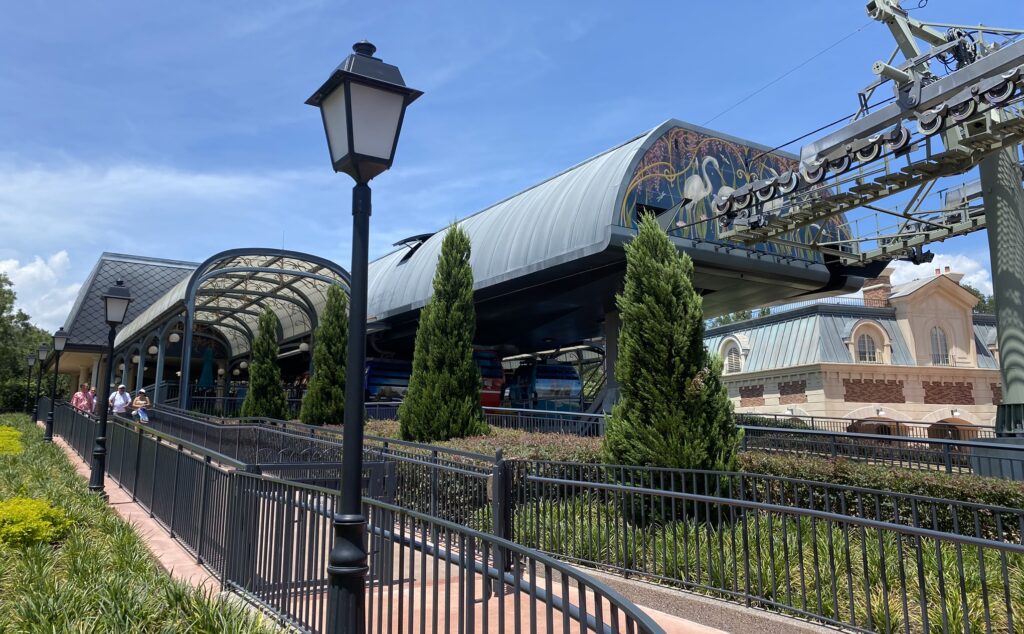 On a typical day, the Skyliner runs from 7 a.m. to 11 p.m. This schedule changes slightly depending on the park hours. In general, the Skyliner will be running one hour before Epcot and Hollywood Studios open and stop running two hours after they close.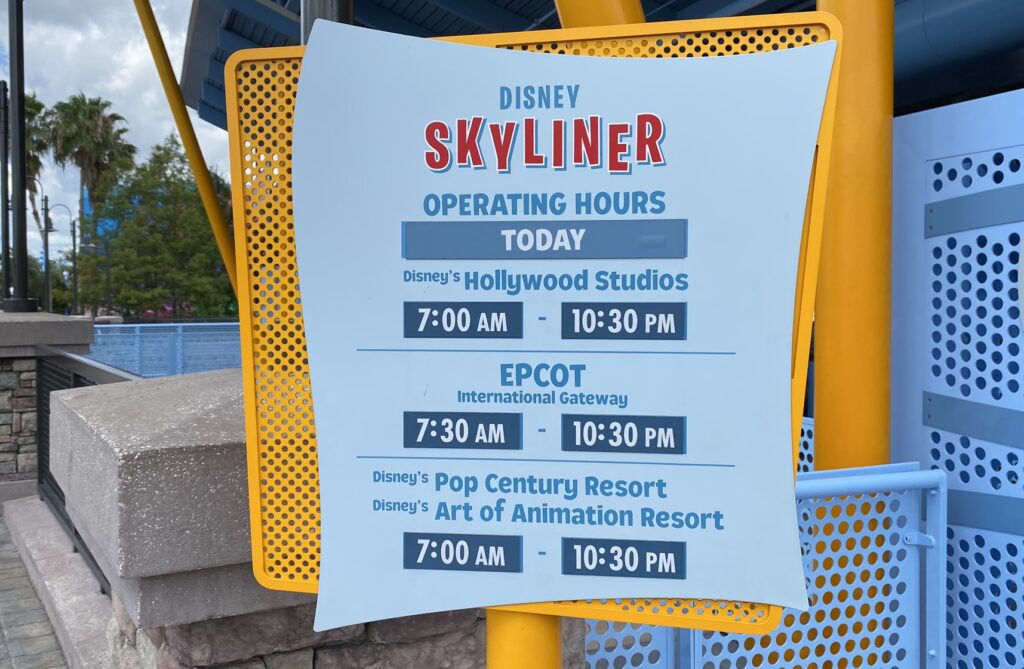 And please don't worry if you have a wheelchair or scooter, as the Skyliner can easily accommodate you! Just look for the separate boarding area when you arrive at the entrance. A Cast Member will be available to help you load.
It's worth saying again that the Disney Skyliner can ONLY take you to two theme parks from Pop Century – Epcot and Hollywood Studios. It can also take you to two Disney hotels – Caribbean Beach Resort and Riviera Resort. If you want to head somewhere else, keep reading for other transportation options!
---
Option #2: Use the FREE Bus Service!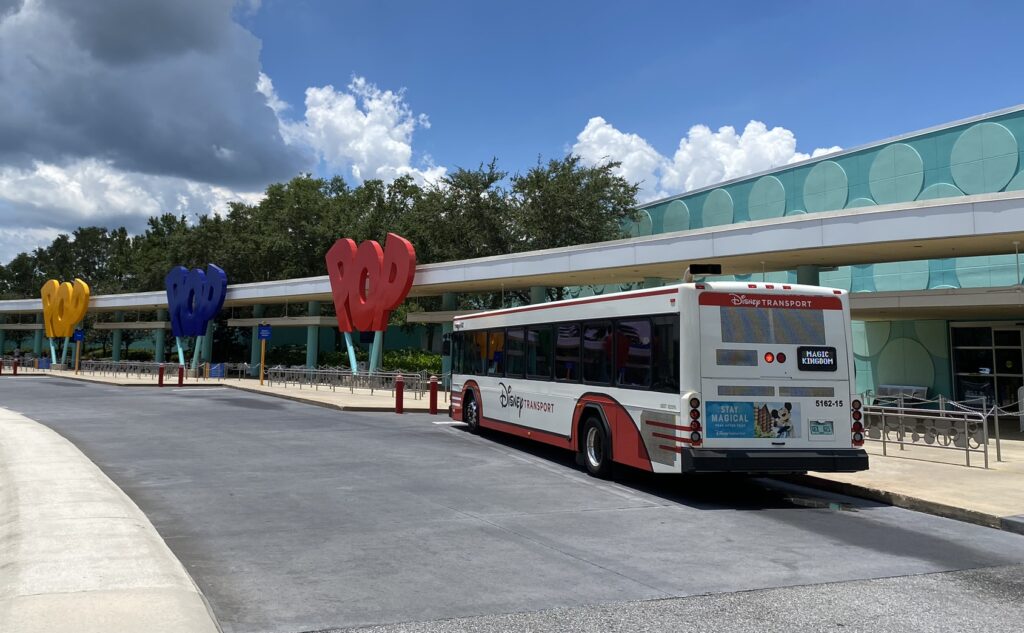 One of the BEST parts about staying at Pop Century (or any Disney resort) is the FREE bus transportation that goes directly to Magic Kingdom, Animal Kingdom, and Disney Springs. In addition, you can use the bus service to get to the two Disney waterparks (Typhoon Lagoon and Blizzard Beach) and any of the other Disney resorts!
Where can I find the bus stop at Pop Century Resort?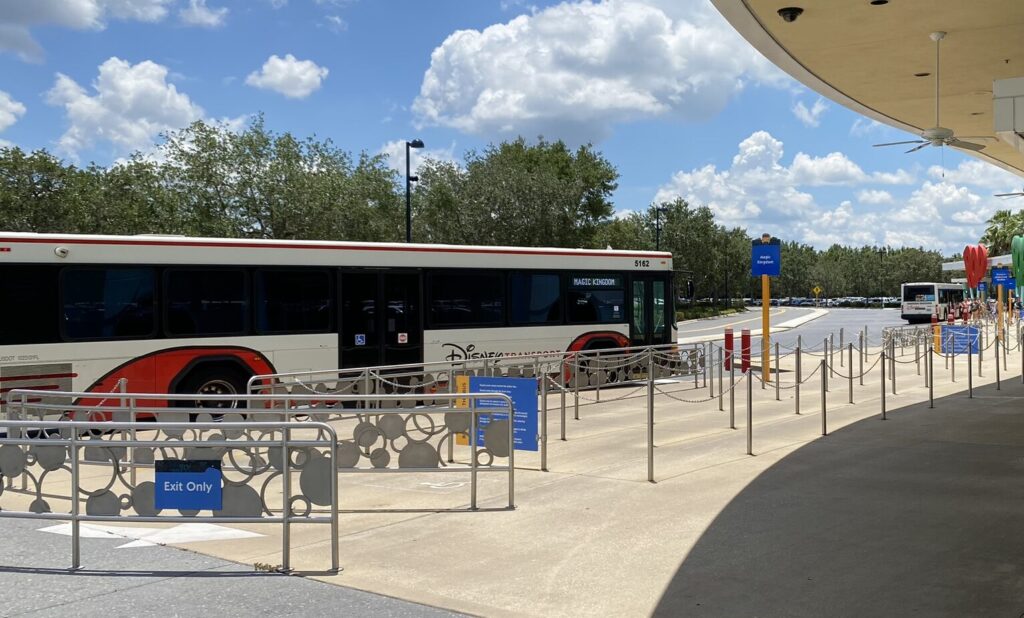 If you want to take the Disney buses, your first step is finding the Pop Century bus stop. Luckily, it's super easy to locate and can be found directly outside Classic Hall, the main building where the lobby is. Just walk out of the main entrance and turn right. Trust me; you can't miss it!
Where do the buses at Pop Century go?
Once you arrive at the bus stop in front of Classic Hall, you must pay attention to the signs to ensure you get on the correct bus! Luckily, everything is clearly marked, so this should not be a problem.
Pop Century provides bus services directly to the following locations below. I have also included the distance away and the approximate time the bus ride will take. Of course, the drive time varies depending on traffic.
Magic Kingdom: The bus ride is approximately 15-20 minutes. It is 6.9 miles (11.1 km) away.
Animal Kingdom: The bus ride is typically about 15 minutes. It is 4.9 miles (7.9 km) away.
Disney Springs: The bus ride is approximately 10 minutes. It is 3.2 miles (5.1 km) away.
Disney only provides bus transportation to Hollywood Studios and Epcot if the Skyliner is NOT working.
In addition, you can get to these locations from Pop Century with ONE bus transfer.
Typhoon Lagoon: Take the bus from Pop Century to Disney Springs. Then get off the bus and find the bus going directly to Typhoon Lagoon.
Blizzard Beach: Take the bus from Pop Century to Animal Kingdom. Then get off the bus and find the shuttle going directly to Blizzard Beach.
ANY of the other Disney World Resorts: Do you have dinner reservations at the Grand Floridian? Or do you want to check out Coronado Springs Resort for your next vacation? Luckily, it's EASY to get to any of the other 20+ Disney resorts from Pop Century using the free Disney bus transportation. All you need to do is take the bus to any of the four theme parks or Disney Springs. Then get off the shuttle and find the bus that goes directly to the resort you want to visit! I believe Hollywood Studios is the BEST place for easy transfers since it is the closest theme park to Pop Century. But please check to make sure Hollywood Studios is still open, or no buses will be operating there. 🙂
ESPN Wide World of Sports: Check with the front desk regarding bus transportation here. The schedule and operating hours change depending on what events are being held. If there are no direct buses, you must take a bus to one of the parks and transfer to ESPN Wide World of Sports.
What is the bus schedule at Pop Century?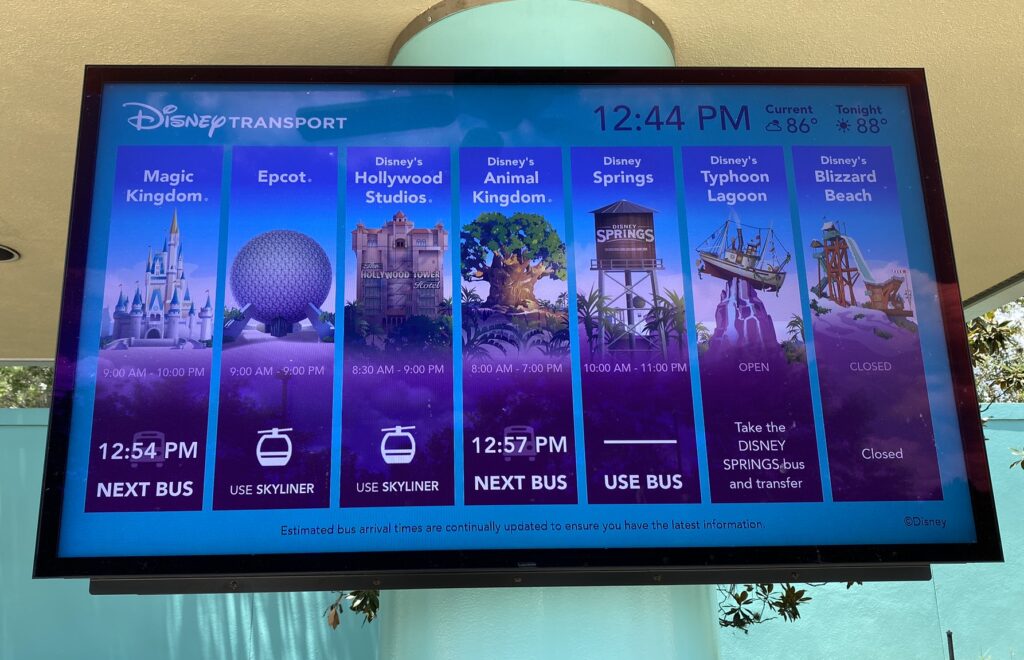 Bus service to the theme parks typically begins 45 minutes before the park opens and ends 1 hour after closing.
Bus service to Disney Springs begins when they open and ends 1 hour after closing.
Once they start, the buses run continuously throughout the day. I have found that you can typically expect a bus to arrive around every 20 minutes. 
In addition, you will find screens that show the approximate times the next shuttle is expected to arrive at the bus stop!
---
Option #3: Take a taxi (Uber or Lyft)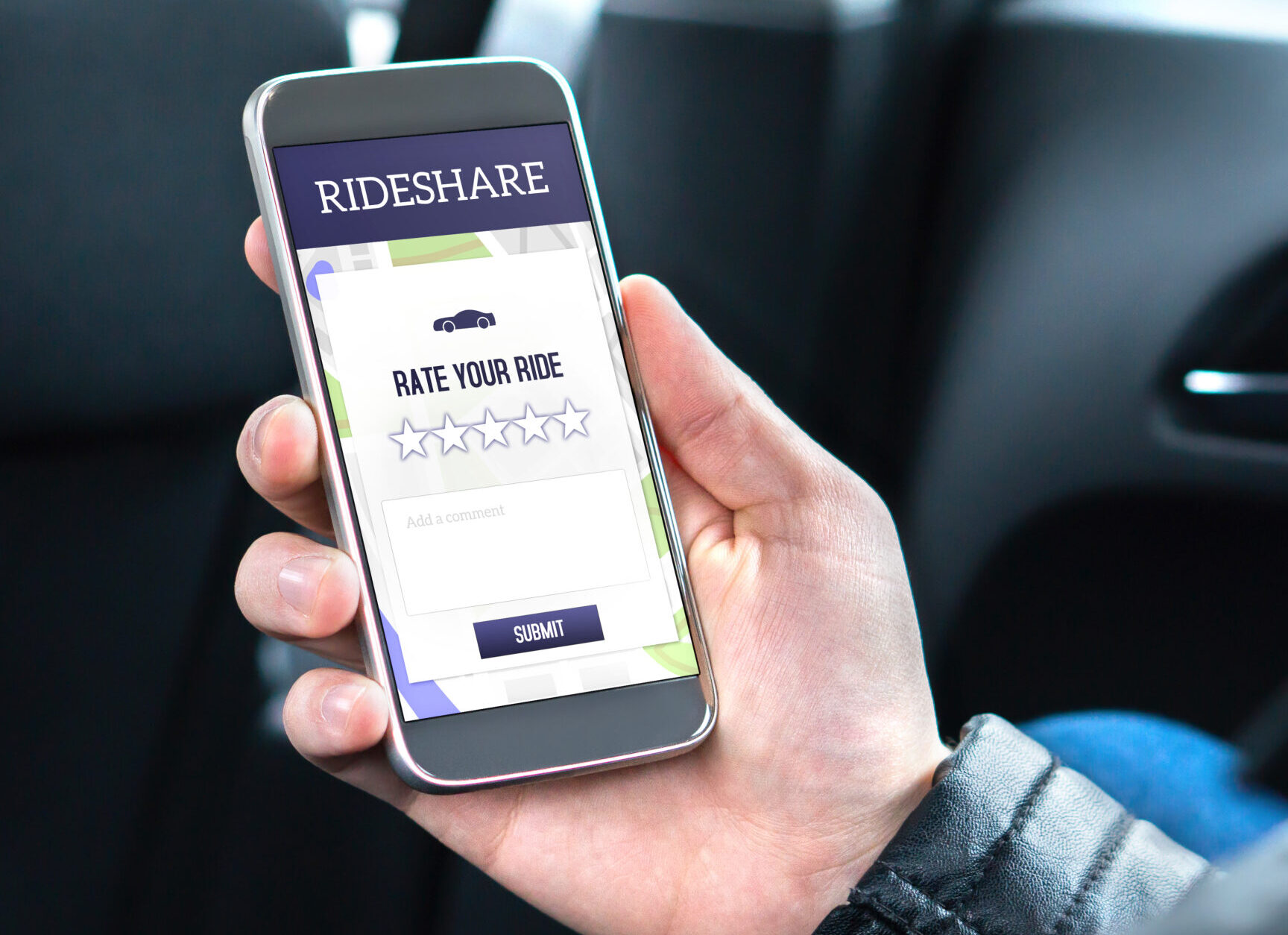 Taking a taxi from Pop Century to the theme parks, Disney Springs, or other Disney resorts is an easy and convenient way to travel. 
Using this transportation option can save a lot of time. For example, you may walk up to the bus stop and see a LONG line to get on the bus, and there is a possibility you won't fit on the next one that arrives. It's also common for the Skyliner to be down for maintenance.
I know our family has used taxis when we see the bus we needed to get on just left, and it will be 20 minutes before the next one arrives! I would also advise taking a taxi if you have an early breakfast at another resort since taking a bus from Pop Century to another resort involves a bus transfer, which adds a considerable amount of time!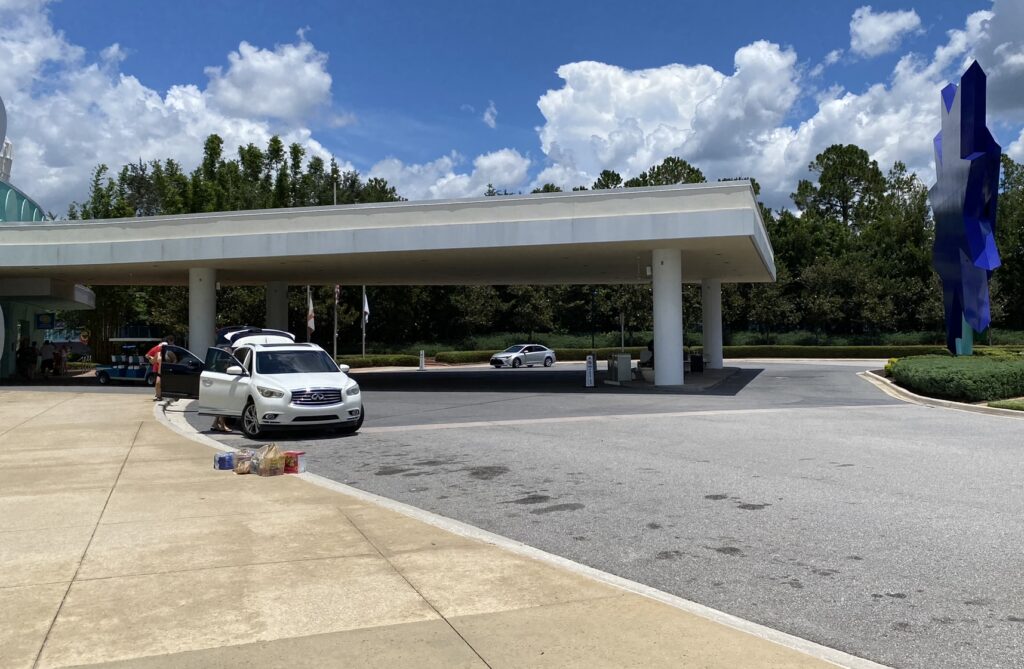 The easiest place to meet your taxi driver is outside near the front lobby of Classic Hall, as there are plenty of spots for them to stop and provide you with a safe place to get in the car.
Taking a taxi is also a great way to visit places OUTSIDE Walt Disney World Resort.
We have often stayed at a Disney resort but wanted to visit somewhere else for a day or evening. To help save money, we rarely rent a car, so we have to find alternate transportation.
Luckily, taxis and rideshares can easily take you from Pop Century to the following locations:
Sea World <– One of my favorite places. 🙂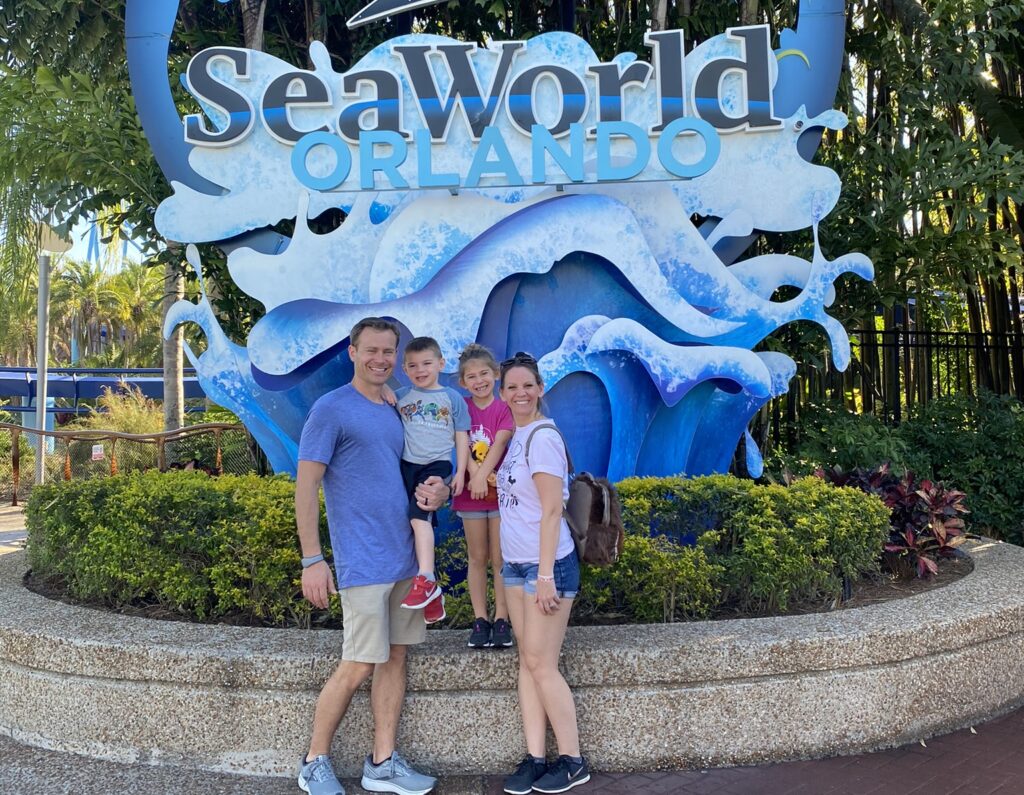 Universal Theme Parks
Downtown Orlando
Restaurants, parks, etc. Honestly, you can go anywhere you want!
TWO rideshare companies operate in Disney World – Uber and Lyft. Between them both, there are a lot of drivers cruising around. Almost every time I've used a rideshare from the resorts, I've had to wait less than ten minutes to get picked up.
You can also request a taxi from Mears, a company that operates all over Orlando.
I have found the one-way fare around Walt Disney World averages about $15. In my opinion, if you have limited time to travel somewhere, it is money well spent!
---
Option #4: Take a MINNIE Van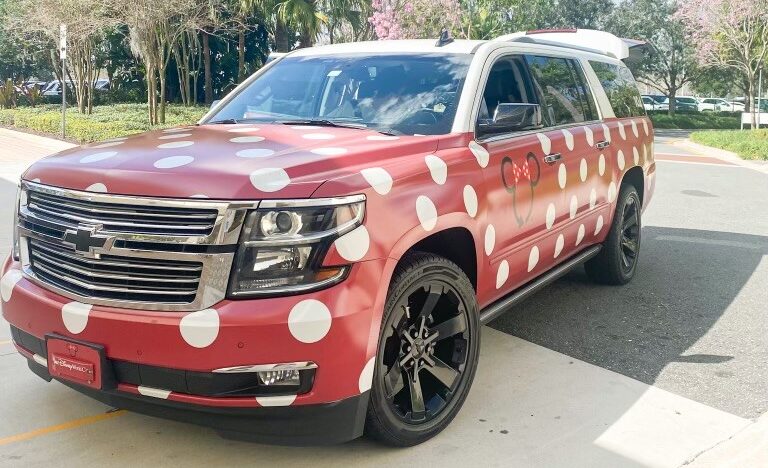 Another transportation option at Pop Century is to take a Minnie Van!
Disney World has partnered with Lyft to provide MINNIE VANS, which are Minnie Mouse-themed mini-vans! Please be aware that this option will be more expensive than a regular Lyft vehicle.
Here are the advantages of using a Minnie Van:
A complimentary car seat.
Your driver will be a Disney Cast Member.
Accessible vans are available and provide two spaces for mobility devices.
Minnie Vans can access areas that regular rideshares cannot. One example is that you can get dropped off directly in front of Magic Kingdom instead of at the Transportation and Ticket Center!
If you want to use a Minnie Van, open up the Lyft app while inside Pop Century, and choose your destination. You should see the option to ride in a Minnie Van and the price. If you're satisfied, order the Minnie Van to come and pick you up!
As you can see below, Minnie Vans are much more expensive than a typical Lyft vehicle and driver.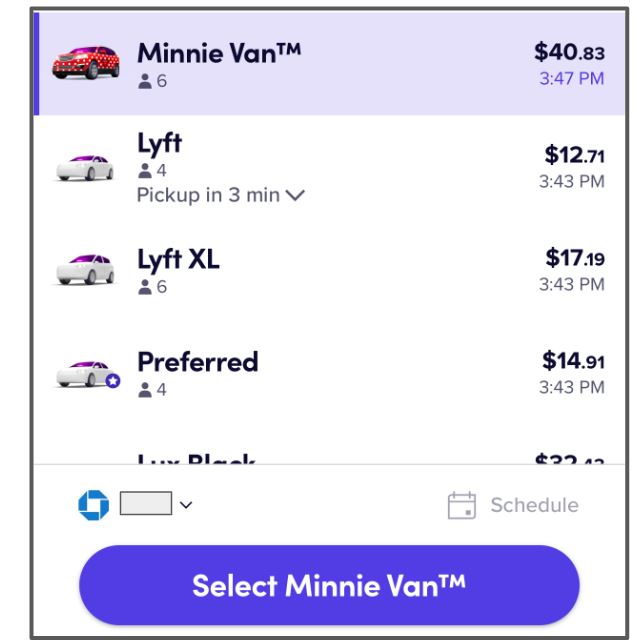 YOU CAN ONLY USE A MINNIE VAN TO GO SOMEWHERE WITHIN WALT DISNEY WORLD RESORT! If you are trying to visit Universal or go somewhere else around Orlando, you must review option #2 above.
---
Option #5: Drive yourself!
Getting in your car and driving yourself is an overlooked transportation option at Pop Century. It's probably the fastest way to travel since you don't have to wait for someone else to pick you up.
And one incredible benefit of staying at Pop Century (or any of the Disney Resort hotels) is that parking at any of the theme parks is FREE! Seriously, it's rare for anything to be free at Disney World. 🙂
Getting FREE parking at the theme parks is an incredible benefit of staying at Disney's Pop Century, as parking costs a minimum of $25 per day at each park.
---
Frequently Asked Questions:
Can I walk from Pop Century to any of the theme parks?
Unfortunately, the short answer to this question is NO.
First, the distance between Pop Century Resort and any of the parks is fairly long. Second, there are no walking paths that connect them.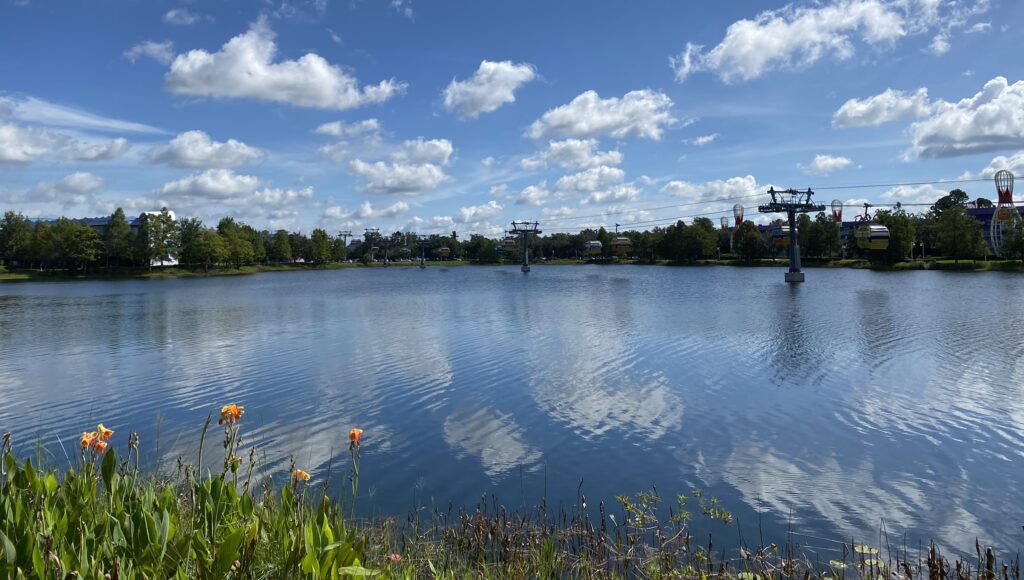 If you feel like walking somewhere, there is a great walking path around Hourglass Lake that takes you through Art of Animation Resort.
Can I take the Disney Monorail from Pop Century?
No, the monorail does not have a boarding station at Pop Century. If you want access to this transportation option from your hotel, you must stay at the Contemporary Resort, Grand Floridian Resort & Spa, or Polynesian Village Resort.
---
Related Posts – Pop Century:
---
What is your favorite transportation option at Pop Century?
Please let me know in the comments below. Or please feel free to ask any other questions I did not answer above! 🙂