Are you interested in the amenities at Disney's Pop Century Resort?
You have come to the right place! Below you will learn about all the amenities and benefits of staying at Pop Century.
As you will see, this Disney value hotel celebrates 20th-century pop culture. You will love the giant bowling pins, yo-yos, vibrant colors, and other themed areas around the resort! Pop Century is a wonderful place to stay when visiting Disney World, especially for budget-conscious travelers.
Let's get started!
20 Amenities at Pop Century Resort:
---
#1. Free BUS transportation to theme parks, shopping, and dining!
Seriously, the complimentary bus transportation is one of the BEST amenities at Pop Century. And the bus stop is easy to find as it's located right outside Classic Hall, the main entrance to Pop Century.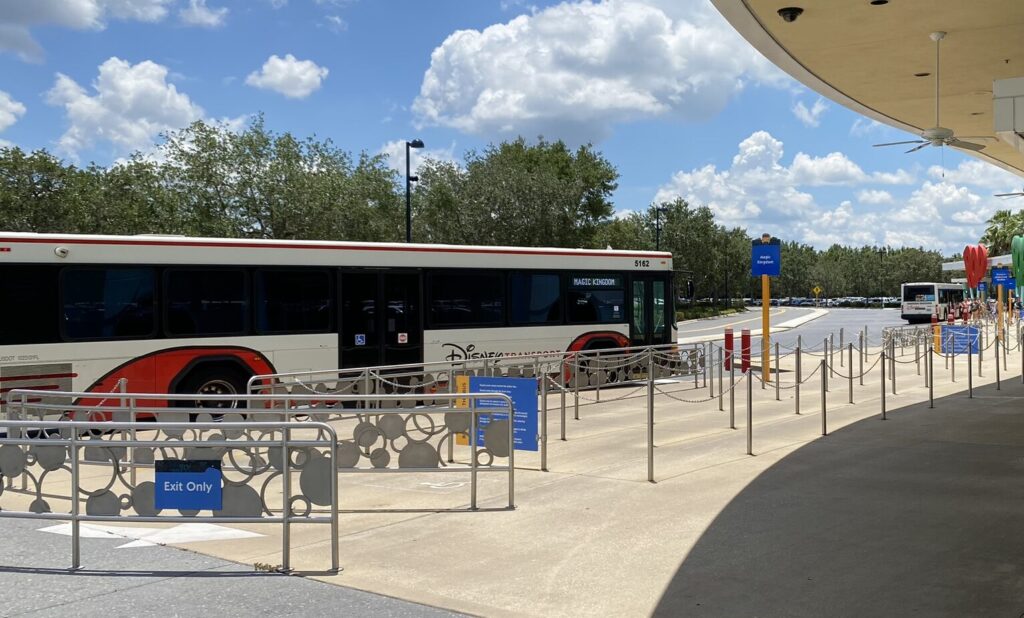 You can take the Disney buses at Pop Century to go to the following locations:
Magic Kingdom
Animal Kingdom
Disney Springs
Typhoon Lagoon and Blizzard Beach
Bus service to the theme parks typically begins 45 minutes before the park opens and ends 1 hour after it closes. Once they start, the buses run continuously throughout the day. I have found that you can typically expect a bus to arrive around every 20 minutes.
At the Pop Century bus stop, you will find screens showing you when the next bus will approximately arrive.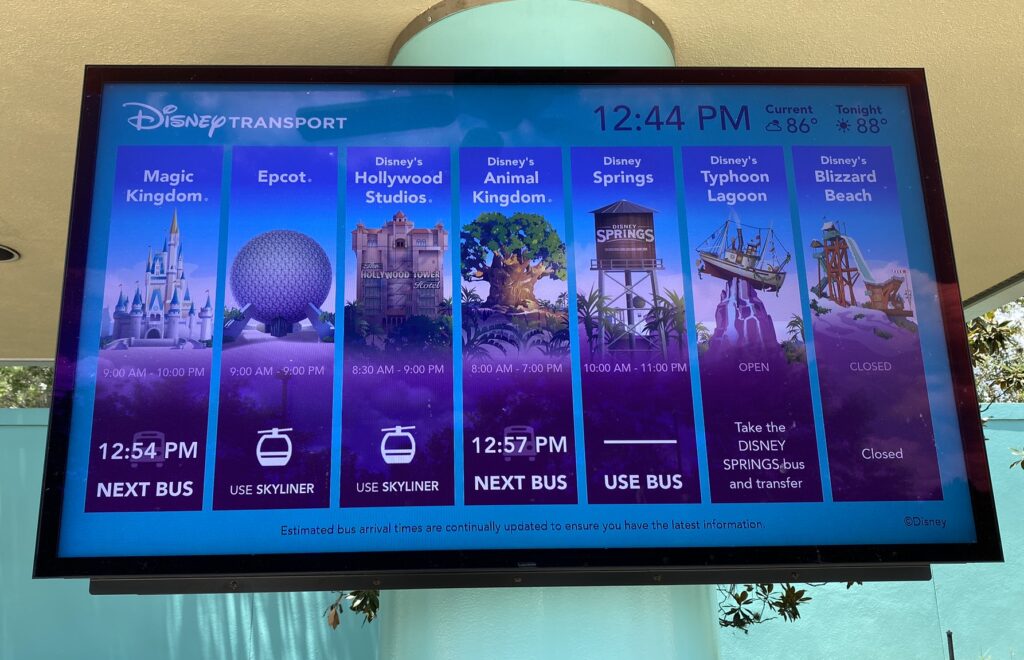 As you can imagine, since this does not cost anything extra, it's the most popular way to travel. However, at certain times of the day, such as the park opening, you might experience a bit of a line to board the bus. So make sure to give yourself plenty of time if you need to arrive somewhere for a reservation or show.
Keep reading to learn how to get to Epcot and Hollywood Studios from Pop Century. 🙂
---
#2. Access to the Disney Skyliner!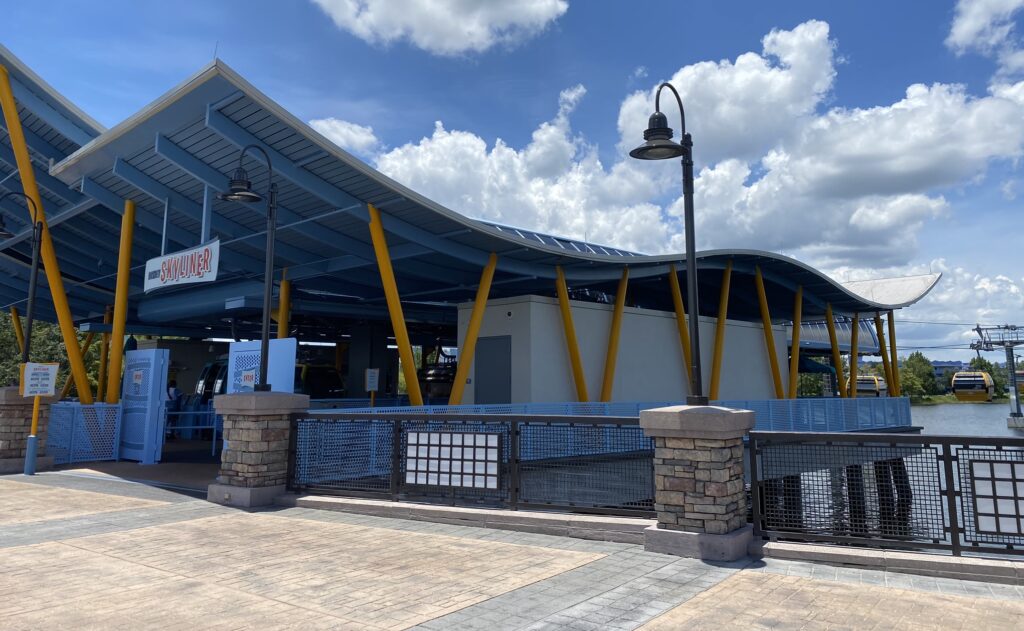 One of the best things about staying at Pop Century is that you can walk to a boarding station for the Disney Skyliner! Only a few Disney resorts have direct access to the Skyliner, so this is a great benefit.
In case you don't know, the Disney Skyliner is a transportation system consisting of suspended cabins that move through the air. It gives some incredible views of Walt Disney World, along with being fun, convenient, and relaxing. My kids love riding in the Skyliner as opposed to the Disney buses!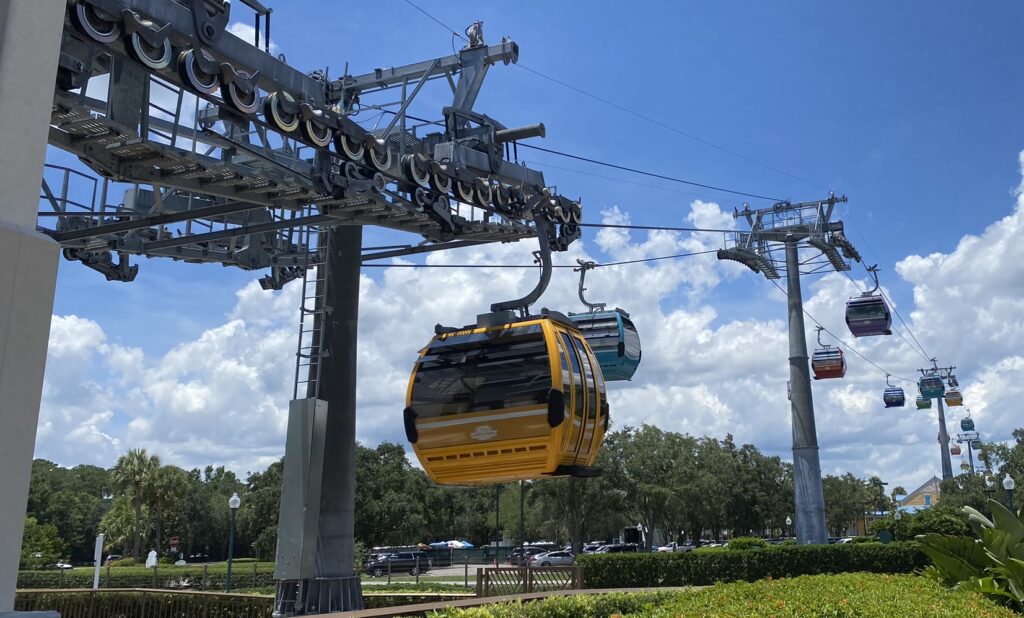 The Disney Skyliner can take you to Epcot or Hollywood Studios from Pop Century Resort.
My guess is that no matter where you stay at Pop Century, you have less than a 5-minute walk to the boarding area! Check out the map below to see exactly where the Disney Skyliner is located in relation to the Pop Century:
Once you have boarded your cabin, prepare for a wonderful view as you rise over Hourglass Lake and ride to the connecting station at the Caribbean Beach Resort.
Here is the view from your cabin as you soar past Pop Century!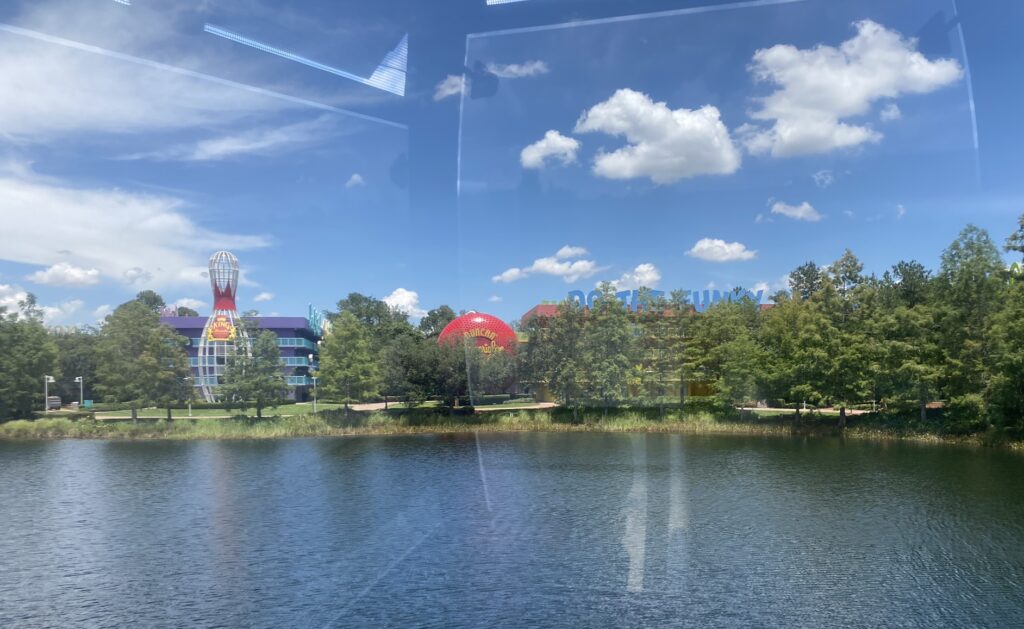 Once you arrive at the Skyliner connecting station, you will get off and take a short walk around the corner to board another cabin that takes you to your final destination of either Hollywood Studios or Epcot.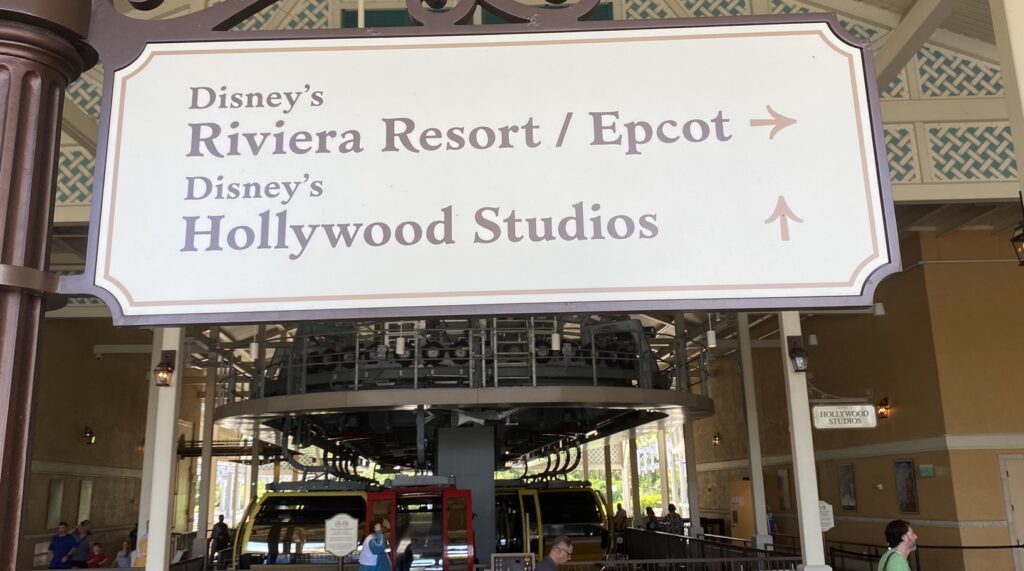 ---
#3: The pools!
One of the best amenities of Disney's Pop Century is the pools!
The resort has THREE pools: The Hippy Dippy Pool, the Bowling Pool, and the Computer Pool.
Pool #1: The Hippy Dippy Pool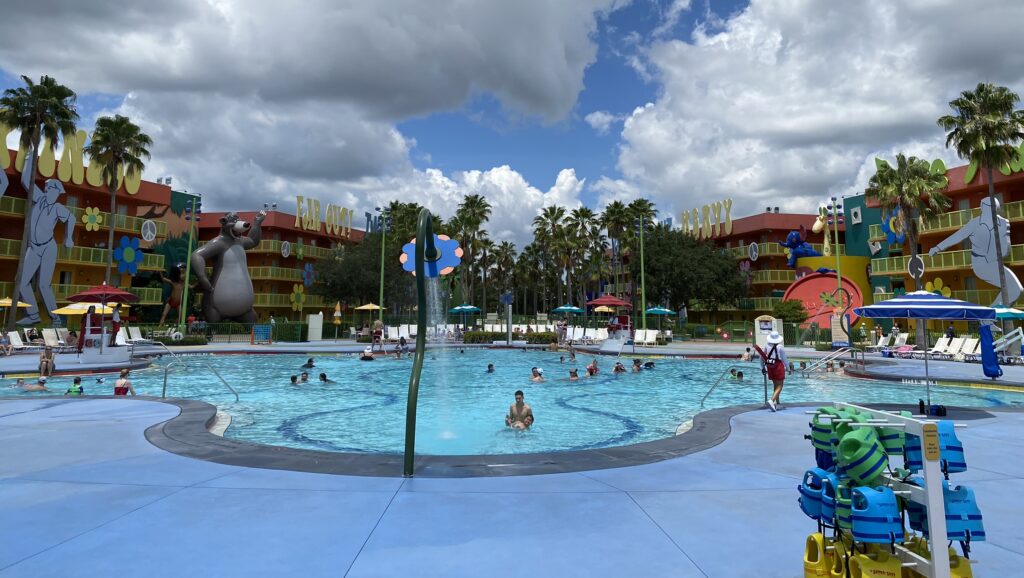 The Hippy Dippy Pool is the LARGEST pool at Pop Century at 235,000 gallons! Because of its size and central location in the resort, it is the busiest and most popular of the three pools.
The pool is located in the 1960s section of Pop Century and is themed after this decade. On the sides of the buildings, you will see flower decorations everywhere, along with lots of giant people dancing. And if you were to look at the pool from above, you would see it is shaped like a giant flower! Check it out below: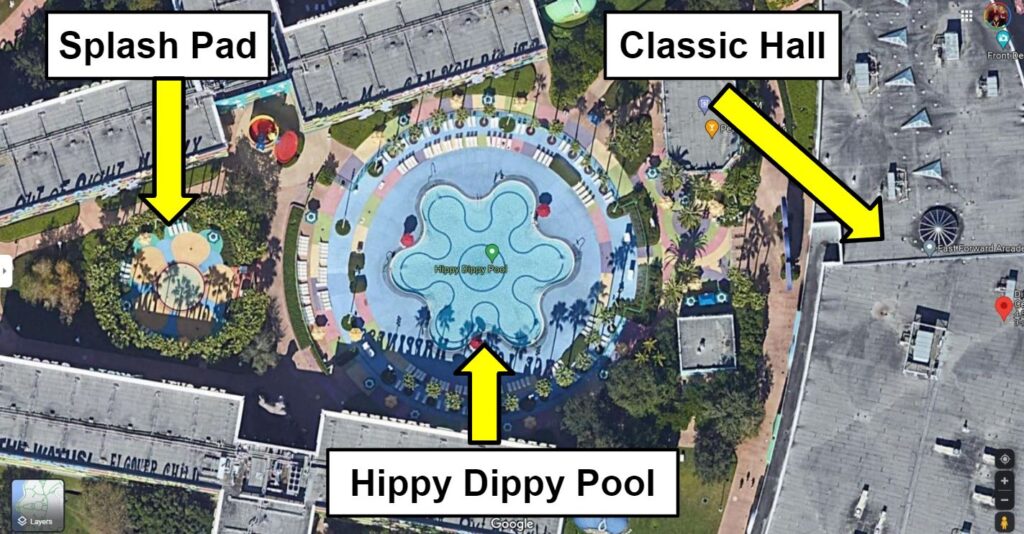 If you have little kids, you will be happy to learn there is a small kiddie pool behind the Hippy Dippy Pool inside a separate fenced-in area!
Pool #2: The Bowling Pool
You will find the Bowling Pool at the far north end of Pop Century Resort by the 1950s buildings.
As you probably guessed by the name, the pool and the entire area are themed after bowling! For example, you will find pin decorations located around the pool deck. In addition, the restroom building is designed to look like where you store your shoes at the bowling alley.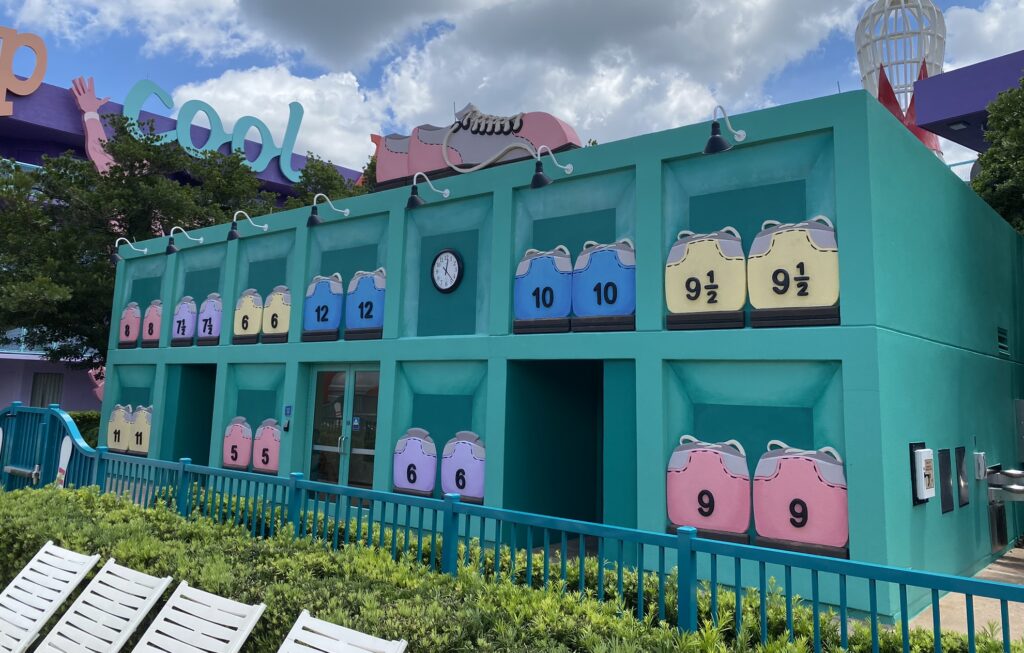 But my favorite part about this pool is if you look at it from above, it's shaped like a bowling pin! Even lines run down the pool deck to mimic the bowling alley.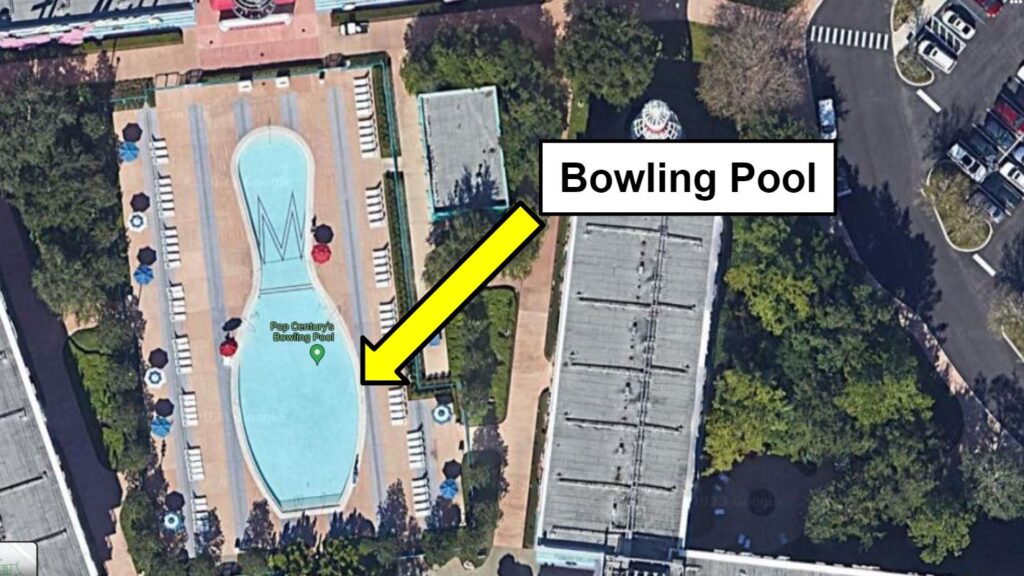 Because of its smaller size and location at the far end of Pop Century Resort, the Bowling Pool is typically much quieter and less crowded than the Hippy Dippy Pool.
Pool #3: The Computer Pool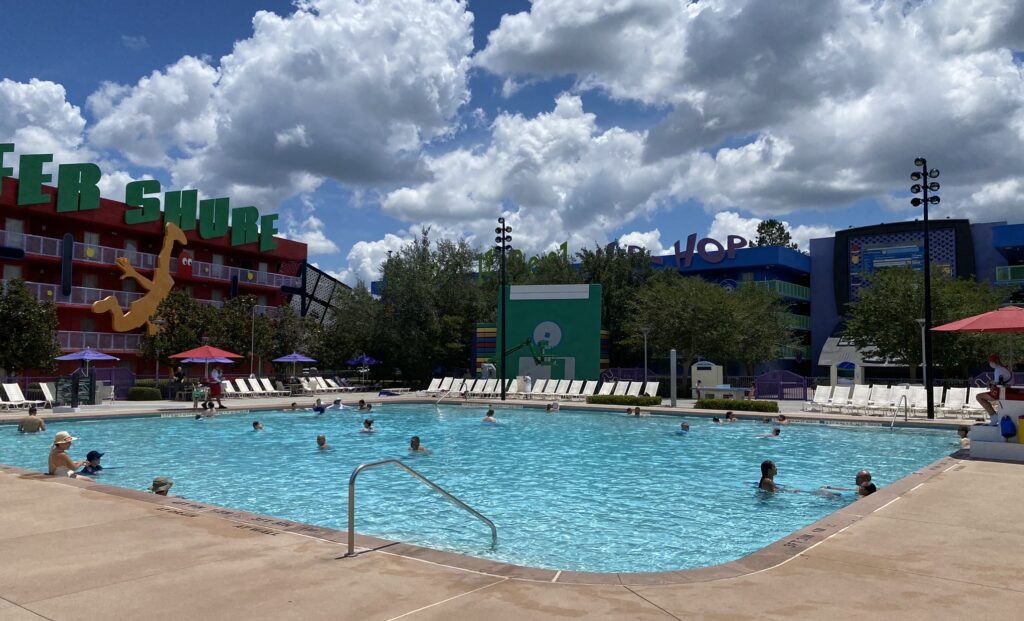 You will find the smaller Computer Pool at the far south end of Pop Century between the 1980s and 1990s buildings. As such, the pool and entire area are themed after these time periods.
As the pool's name suggests, it is uniquely shaped and resembles a computer monitor. If you could view the pool from above, you would see a large square!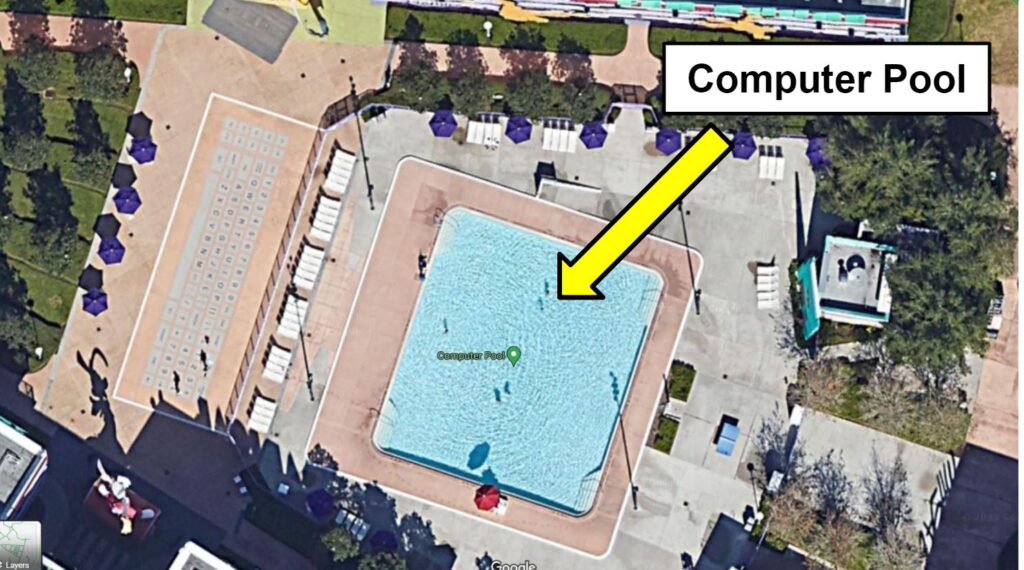 In addition, you will find a life-sized spongy keyboard in front of the Computer Pool.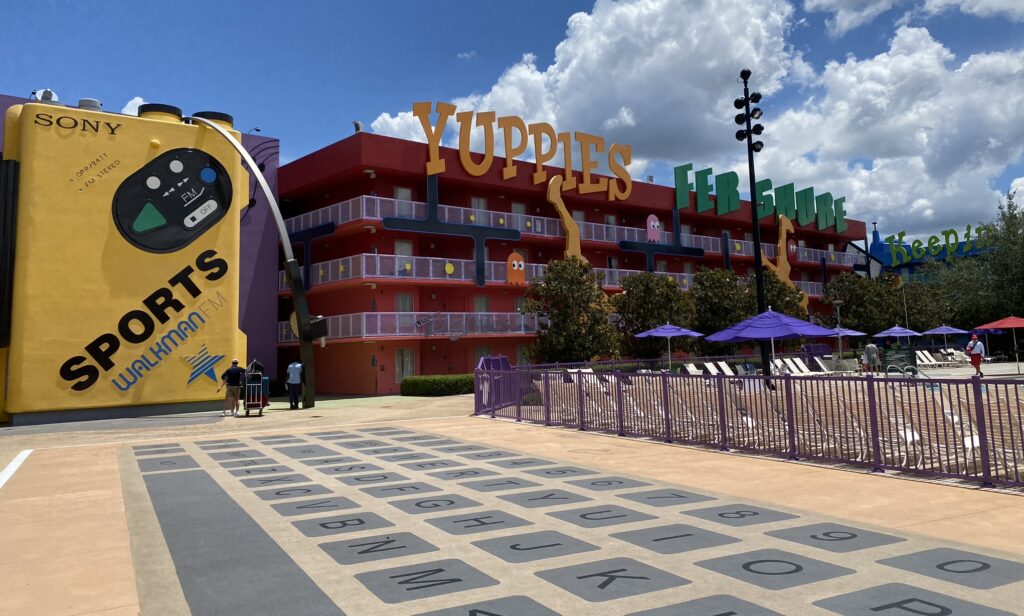 A few other things to know about the pools at Pop Century:
There are certain times that Disney Cast Members come out to play games (trivia, relays) with the kids!
Since Disney's Pop Century is a "Value Resort," you won't find any water slides or hot tubs at either of the pools.
All pools are between 3 to 5 (1 – 1.5 m) feet deep.
Towels and life jackets are available for free at each pool
---
#4. Delicious food!
Luckily, while staying at Pop Century, you don't have to go far to find food. 🙂 Dining options are one of my favorite amenities of Pop Century Resort.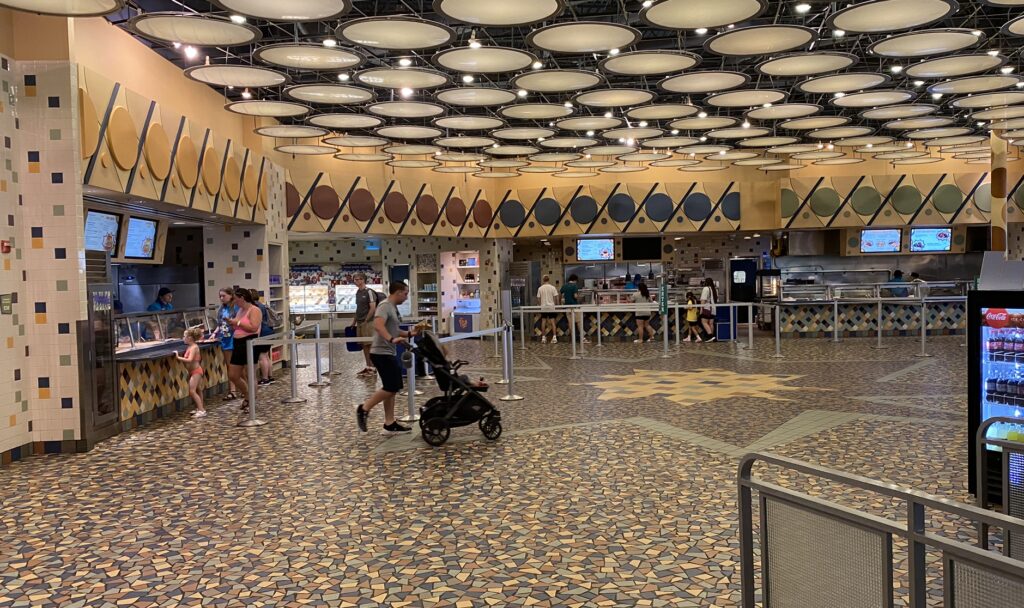 The main place to eat is called Everything Pop Shopping & Dining. It's a large dining area and food court located right inside Classic Hall.
A large variety of options are served here for breakfast, lunch, and dinner.
There is also a grocery-type market that offers many "Grab and Go" options.
Lastly, don't miss the delicious treats and baked goods. Can you say muffins?!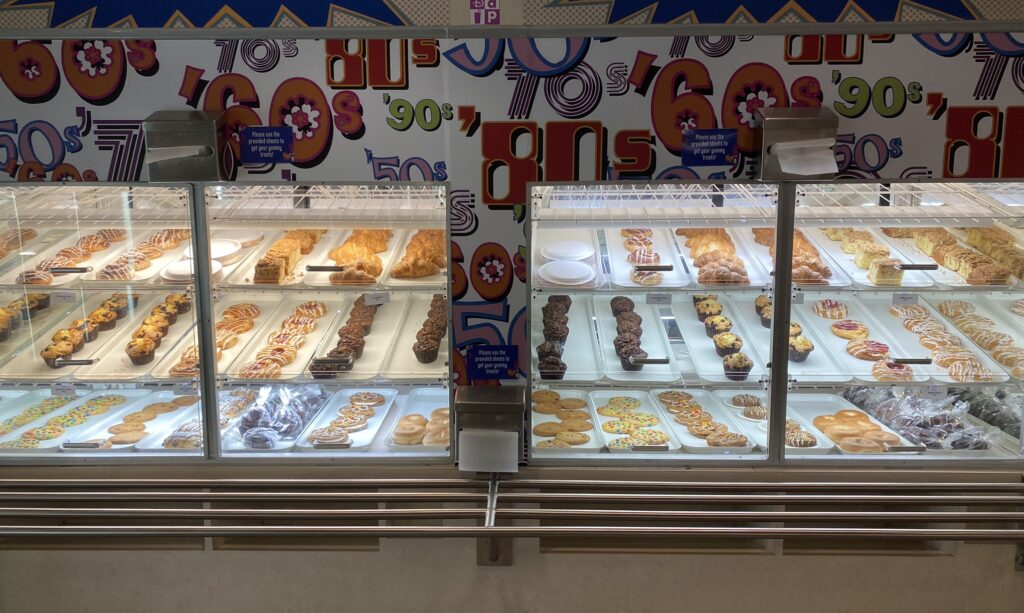 There is also an outside pool bar called Petals Pool Bar. You can find it near the Hippy Dippy Pool.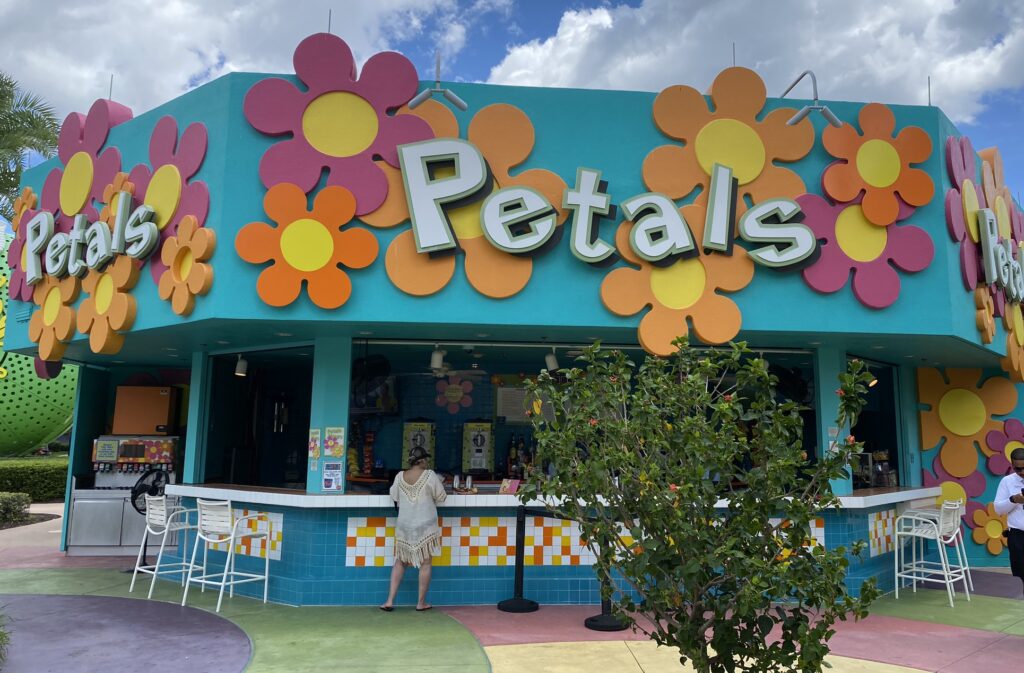 Here you can find lots of delicious alcoholic drinks to enjoy while sitting at the pool.
They also offer a limited food menu, such as Mickey pretzels, salads, and sandwiches.
---
#5. Amenities INSIDE your room at Pop Century!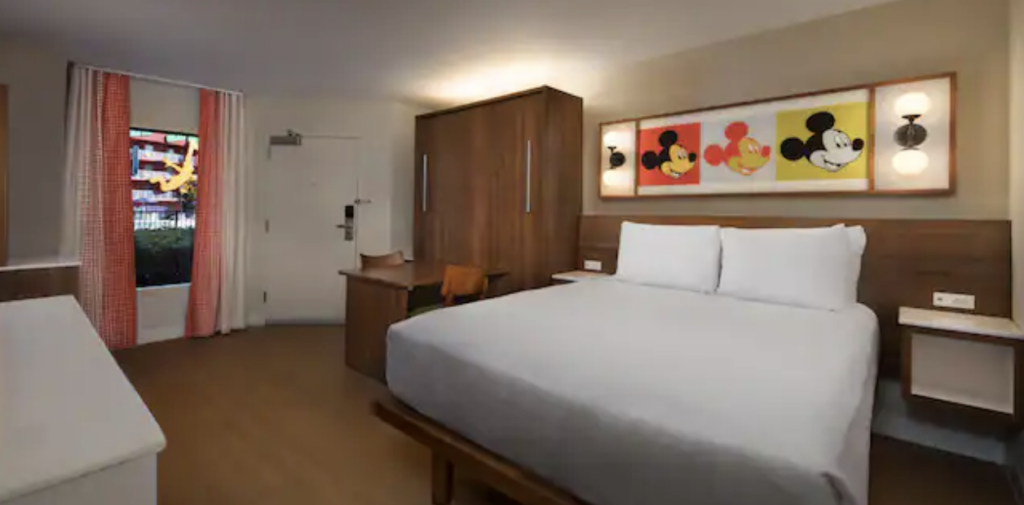 The rooms at Pop Century Resort are 260 square feet and include two double beds. In addition, here are the amenities you will find inside the room:
Mini-refrigerator
In-room safe
Hairdryer
Iron and ironing board
Alarm clock with radio
Telephone with voicemail
Internet – FREE Wi-Fi
Toiletries – includes soap, shampoo, conditioner, and body wash
Coffee machine – includes creamer, sugar, coffee, tea, and paper products. It uses traditional coffee, not K-cups.
There are NO microwaves or toasters in the rooms at Pop Century. However, you will find them at the Everthing Pop Dining food court.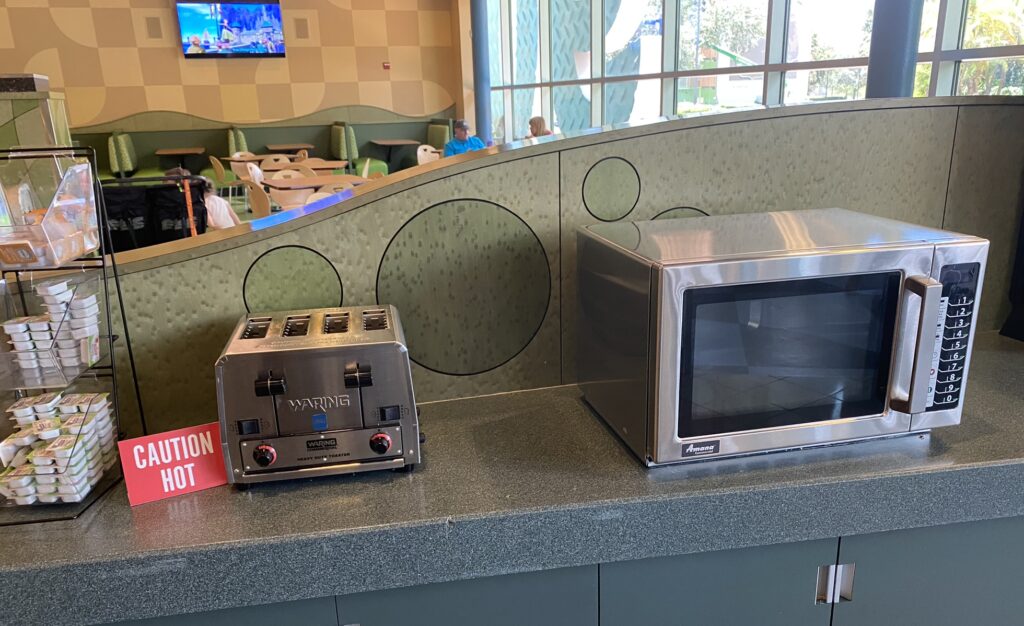 Lastly, there is NO room service at Pop Century since it is considered a "Value Resort." But feel free to take food back to your room from the food court.
---
#6: Roast Marshmallows! (free)
Some of the most fun amenities at Pop Century Resort are the evening activities you can do!
For example, who doesn't love roasting marshmallows? This is a fun activity that is perfect for the whole family.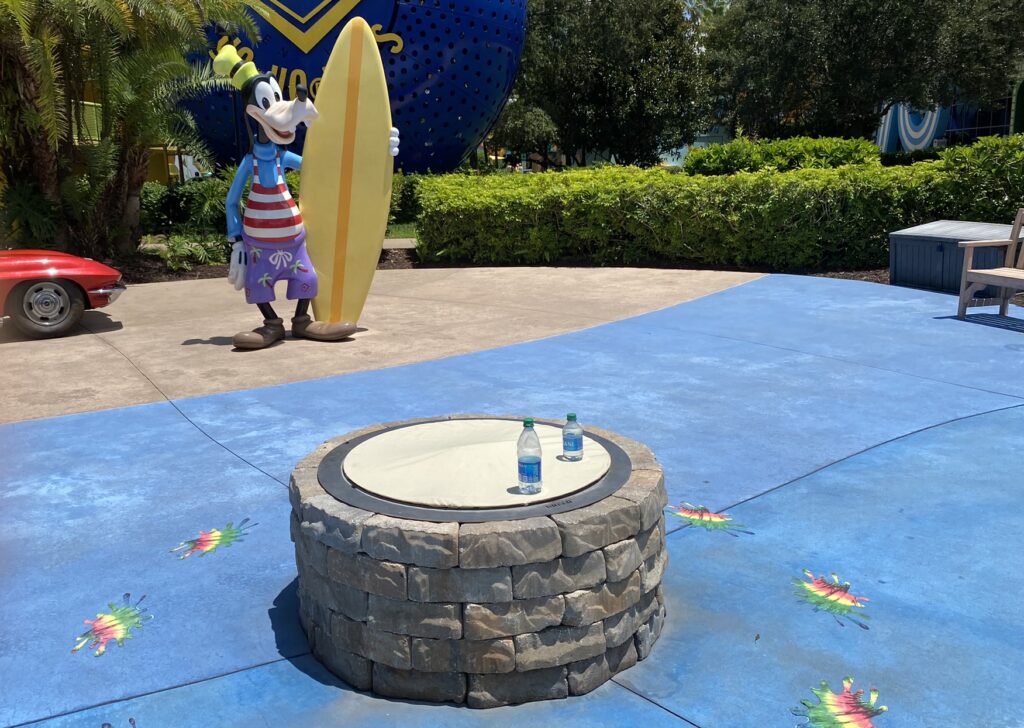 If you want to participate, look for the campfire location near Surfer Goofy from 6:30–7:30 pm. (7 days a week).
Times are subject to change, so please verify with a Cast Member upon arrival at the resort.
---
#7: Watch a Disney movie under the stars
Did you have a long day at the parks and want a fun way to unwind with your family?
If so, it's time to sit and watch a Disney movie under the stars! This is a really fun amenity when you stay at Pop Century Resort.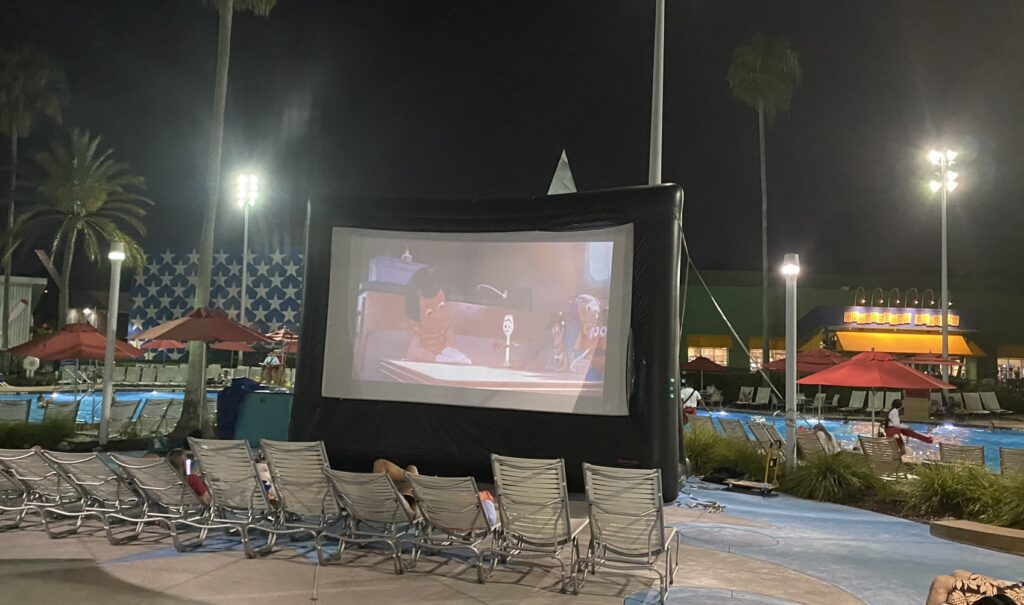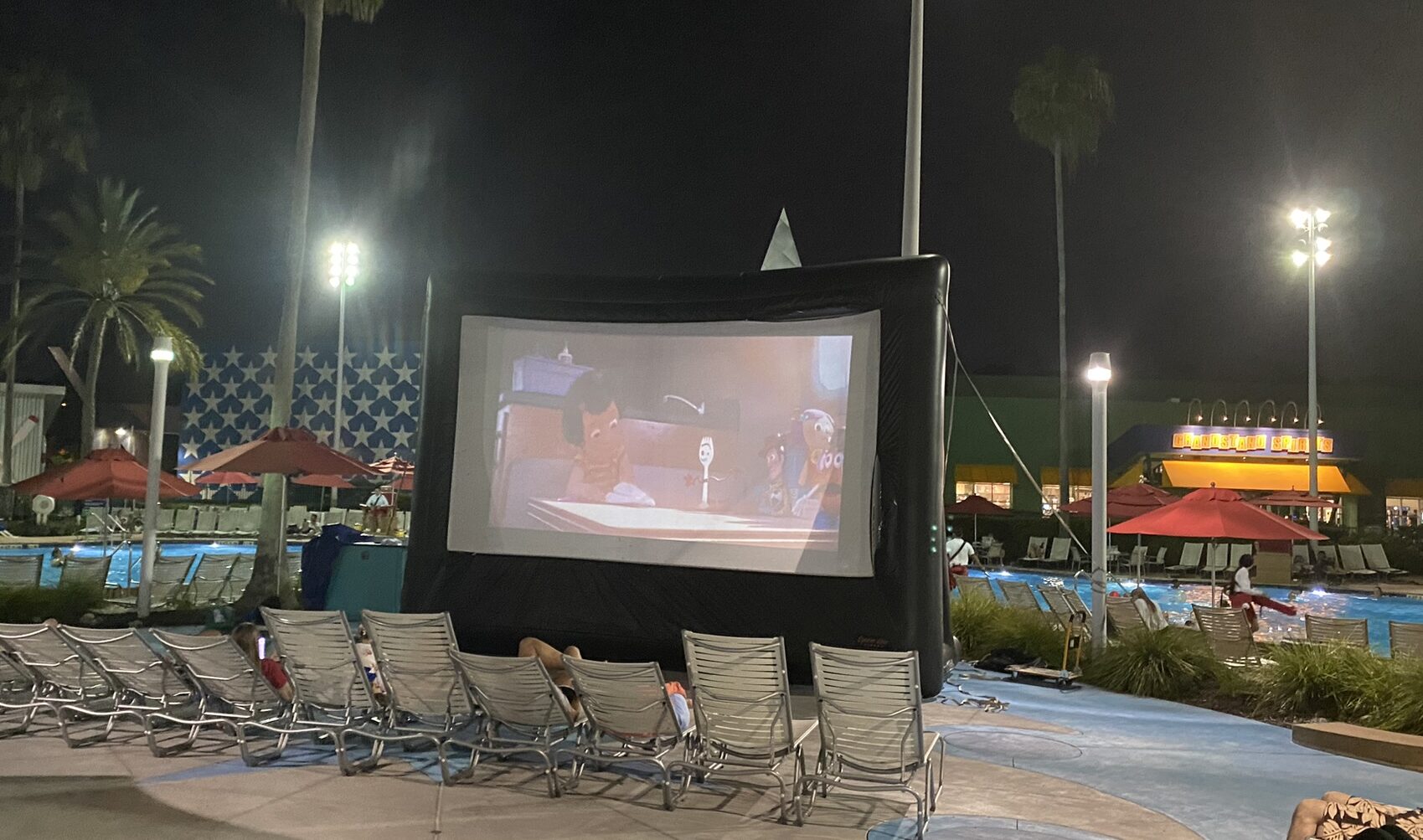 Every night by the Hippy Dippy Pool, you can sit and watch a Disney movie under the stars. Check out the movie schedule at the Front Desk so you don't miss your favorite. 🙂
"Movies Under the Stars" is a popular activity at Pop Century. Make sure to arrive early to find a good spot. And I recommend you bring blankets and snacks!
And if you don't want to watch the movie being played at Pop Century, you can also head over to Art of Animation Resort to see what they are watching. Art of Animation is just a short walk away across the Hourglass Lake bridge.
---
#8: Run or walk on the jogging trail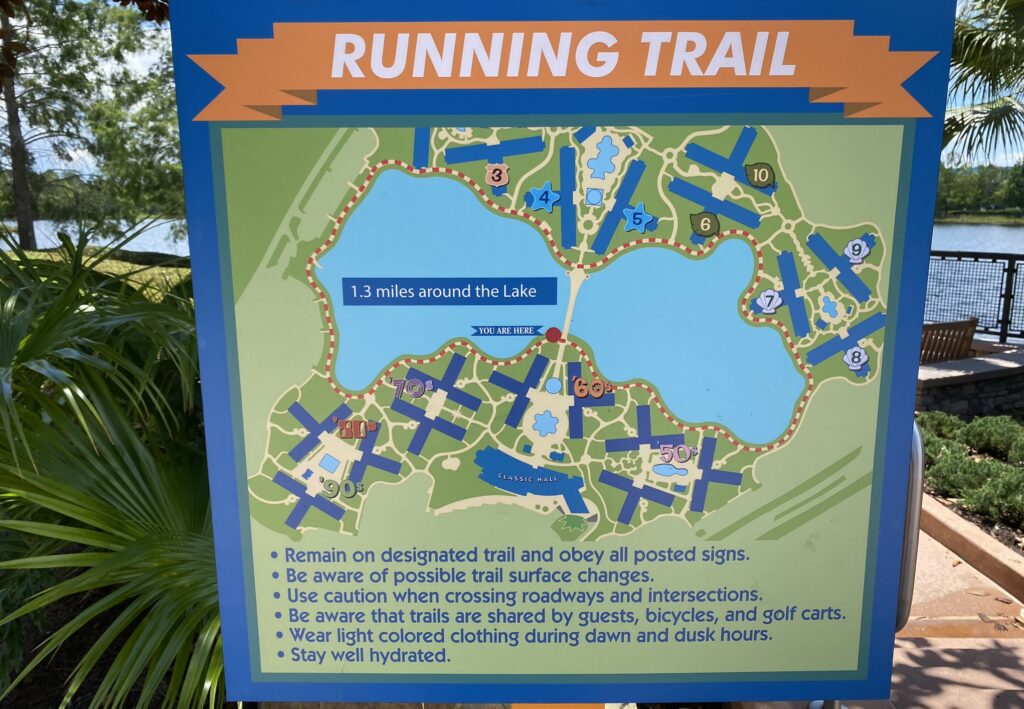 A wonderful amenity at Pop Century Resort is the jogging and walking trail! The official trail is approximately 1.38 miles (2.2 km) in length.
But you could make this much longer by exploring all the interconnected trails at Pop Century, then crossing the bridge over Hourglass Lake and doing the same at Art of Animation.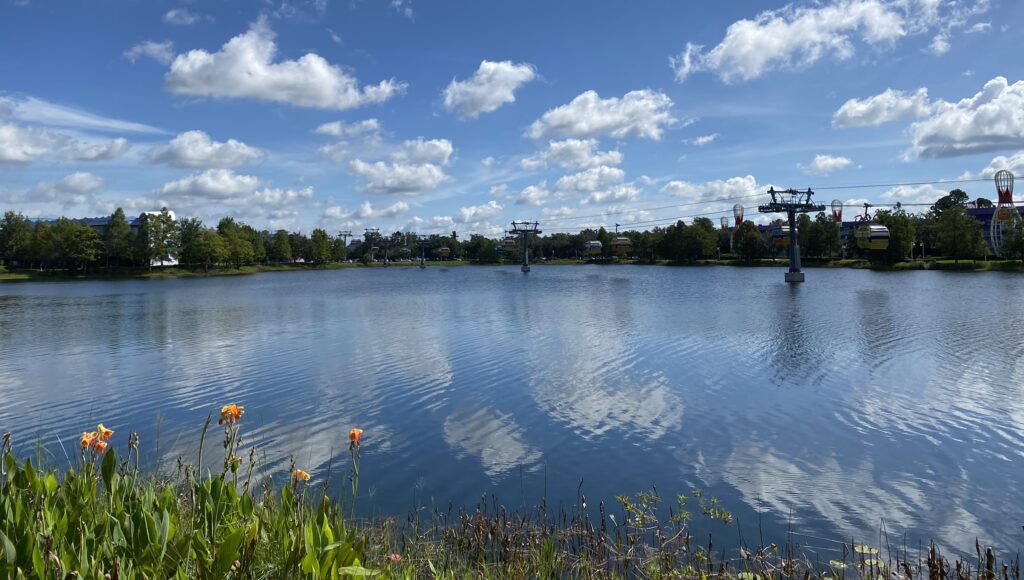 ---
#9: A playground your kids can't resist
Do your kids need to burn off a little extra energy? Disney's Pop Century Resort has a playground where kids can run, play, and climb.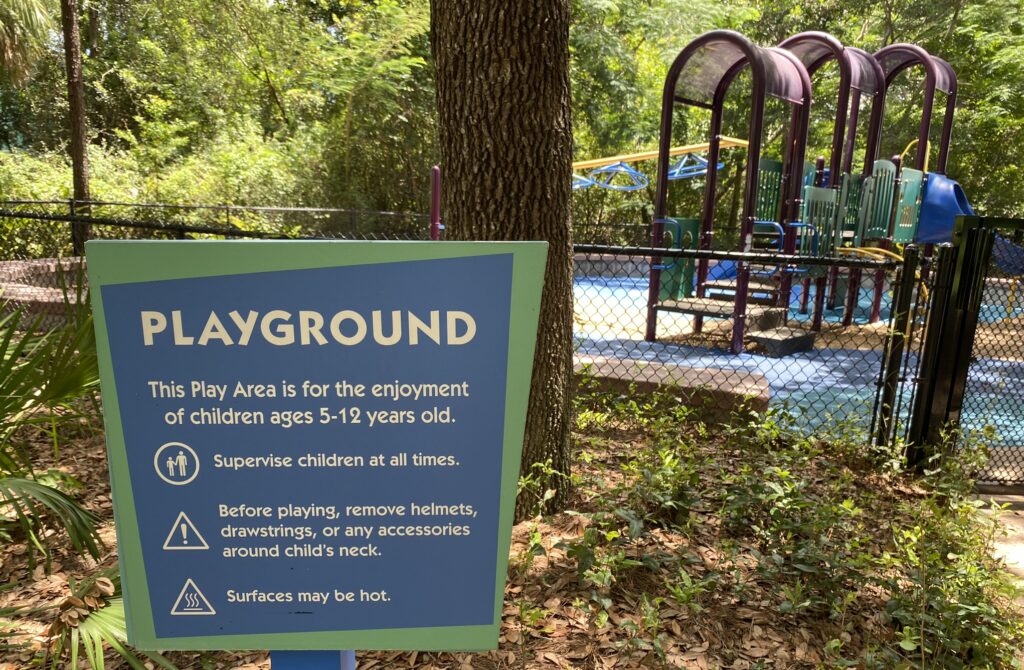 I don't know about your kids, but my kids can't pass up a playground, even if it's for a few minutes! This is a great way for kids to play and unwind a bit. It can be found in the 1970s section of the resort.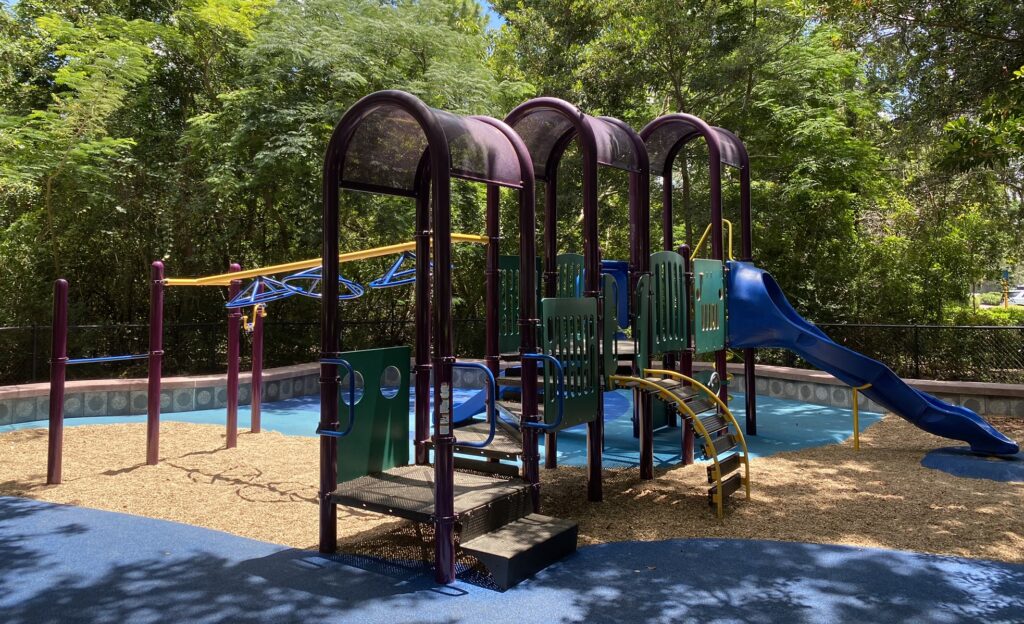 ---
#10. You can shop without leaving Pop Century Resort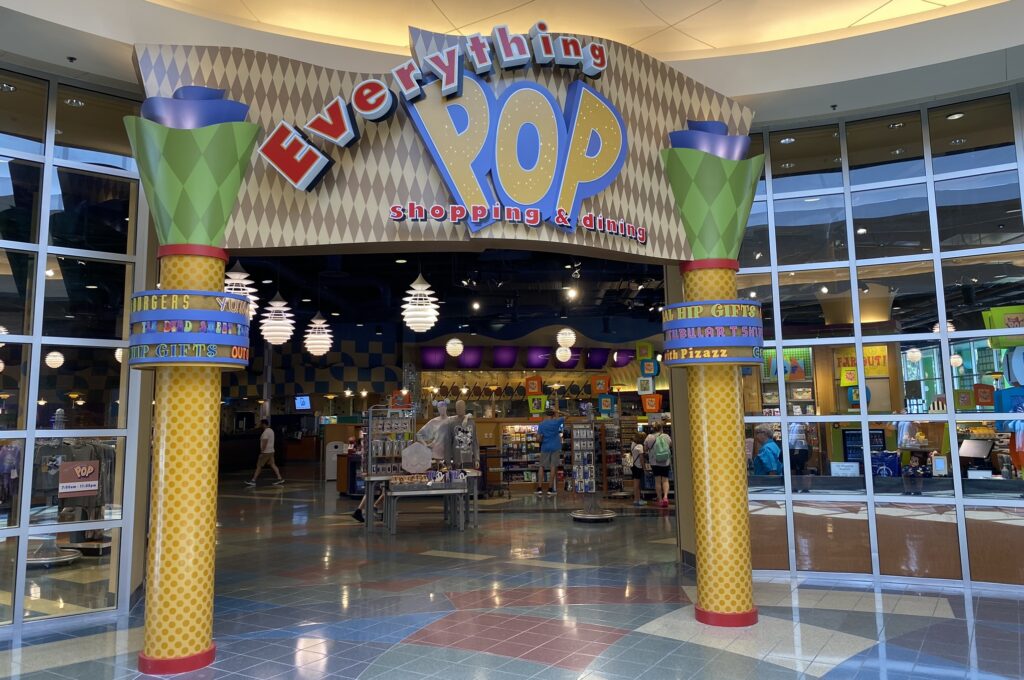 Inside Classic Hall, you will find the Everything Pop store. Here you can shop for various souvenirs, shirts, pins, Mickey ears, sports apparel, character merchandise, snacks, and many other supplies!
---
#11: Play at the Fast Forward Arcade
One fun amenity at Pop Century is the arcade! Our son loves arcades, so he was excited he could play some fun games right at our resort.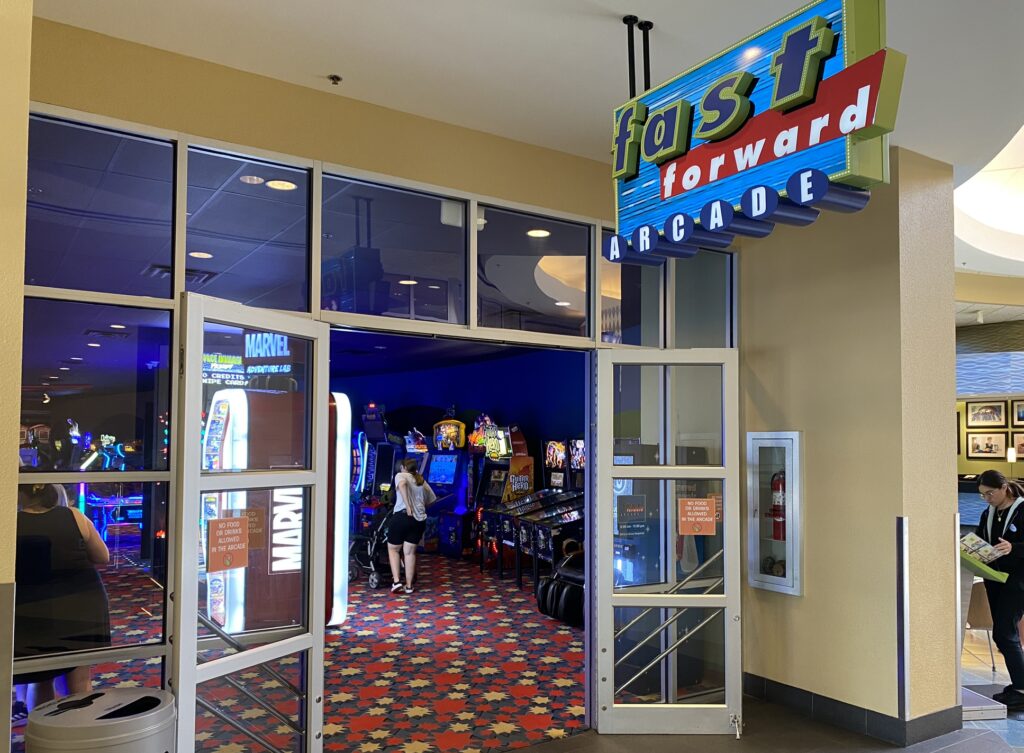 The Fast Forward Arcade is located in Classic Hall across from the food court! There are many games at the arcade that are all age-appropriate for kids to play!
If you want to play, you must buy a Game Card and add game points using a credit card or cash at the kiosk in the arcade. These cards are rechargeable and can be used at other Disney Resort arcades.
The arcade is open daily! Check the Front Desk for hours of operation.
---
#12: FREE Parking
Seriously, how often do you ever hear "Free Parking" anymore? 🙂
And I don't mean you just get free parking at Pop Century. If you decide to drive yourself to any of the theme parks, you can park for FREE at that park, as long as you stayed at Pop Century the night before.
FREE parking is one of the best amenities when you stay at Pop Century, as parking costs a minimum of $25 per day at the theme parks.
---
#13: VERY clean rooms
Having a clean hotel room is something everyone wants when they enter their room! When you stay at any Disney resort, your room will be cleaned before your arrival, and then you'll receive a modified cleaning every other day.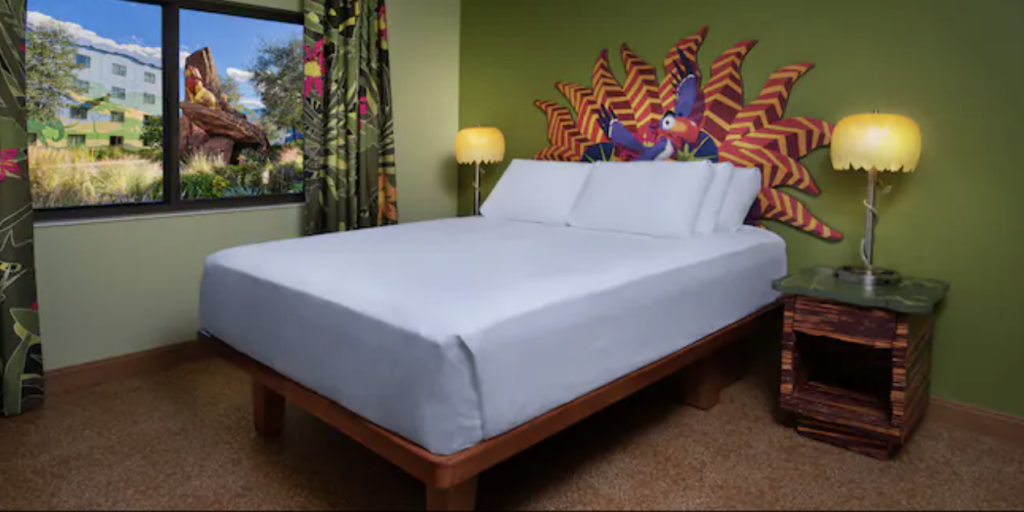 Before you enter your room, your room will go through a complete cleaning with extra attention to high-touch areas. These include things like TV remotes and door handles. Your floors will be steam cleaned and vacuumed as well!
You can choose to have your room cleaned every other day during your stay. If you don't want your room cleaned, you can place the room occupied sign on the door handle to let Disney Cast Members know you wish not to have your room cleaned.
If you want your room cleaned, Disney Cast Members will empty the trash, give you new towels, clean the counters, and vacuum if needed.
---
#14: Clean your clothes at Pop Century
One of my favorite amenities at Pop Century is its 24-hour laundry service. We have taken advantage of the washing machines on many of our trips. Plenty of times, we have needed to clean clothes because the kids spilled something on themselves or we didn't pack enough shirts.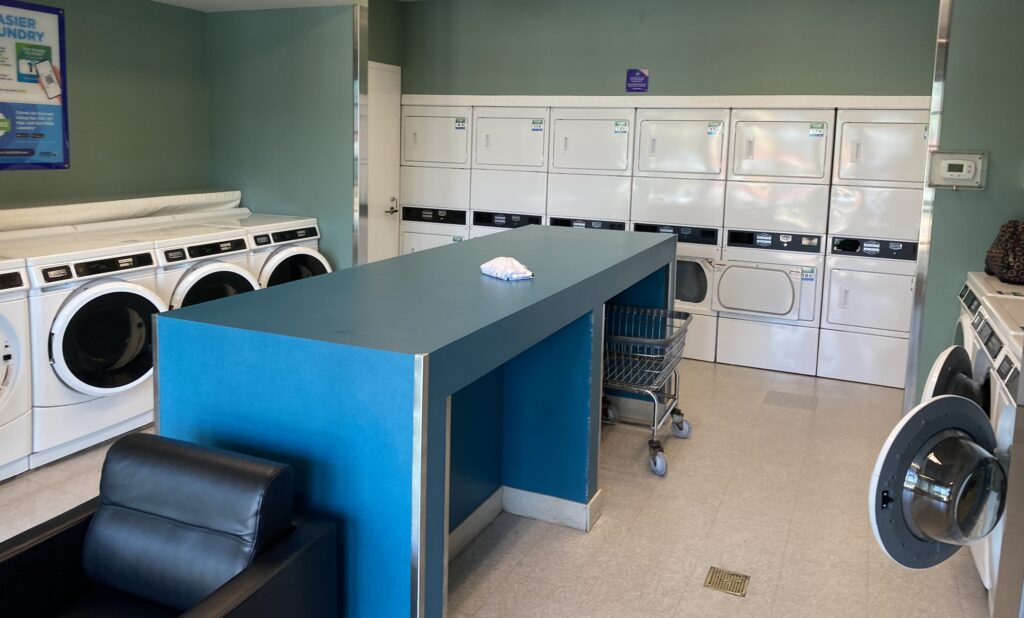 The laundry service is self-serve, and there are locations near the Hippy Dippy Pool, the Computer Pool, and the Bowling Pool. The cost is $3 per wash, and the dryers are $3 per 30 minutes. Luckily, you can use your credit card for payment.
Here is a picture of the laundry building at the Hippy Dippy Pool: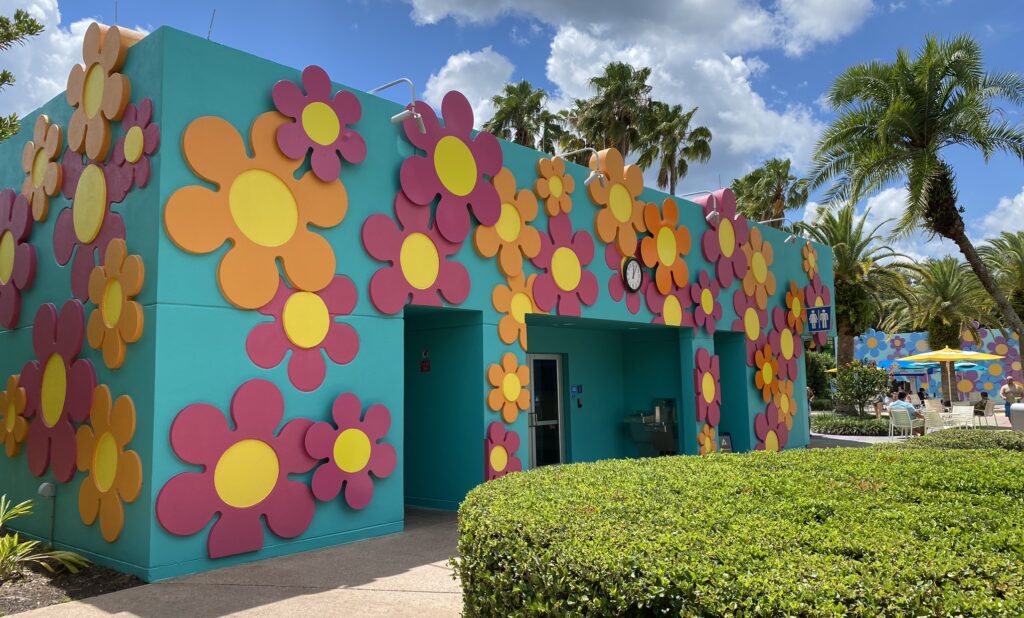 If you need dry cleaning or valet laundry service, you can call "Housekeeping" on the phone in your hotel room. Please note that both of these services have additional costs.
---
#15: Receive deliveries at Pop Century (or mail a letter)
Are you looking to send magic to someone back home while visiting Walt Disney World? You can send letters, postcards, or pre-labeled packages with postage already applied at the Front Desk!
You can also receive packages during your stay at Pop Century! I know we have had items shipped to our resort from Amazon after forgetting something crucial at home. Just have your delivery sent to the mailing address of Pop Century. Disney also recommends that it says "Guest" and the date of your arrival stated on the package.
Here is the address of Disney's Pop Century Resort: 1050 Century Drive, Lake Buena Vista, Florida, 32830-8433.
---
#16: Simple Online Check-In
Want to bypass the front desk at check-in time? Use the online-check in service!
How to use the Direct-to-Room service
Link your Disney resort hotel reservation to your Disney account in the My Disney Experience app or on disneyworld.com
Before you get to the resort, use the online check-in service on the app or at disneyworld.com
When you arrive, use the online check-in service on the app or disneyworld.com
When your room is ready, the My Disney Experience app will provide your room number and let you unlock your door! In addition, your MagicBand (if you have one and it is active) will work to let you in your room.
Check-in time for Pop Century typically starts at 3:00 p.m.
---
#17: Easy access to an ATM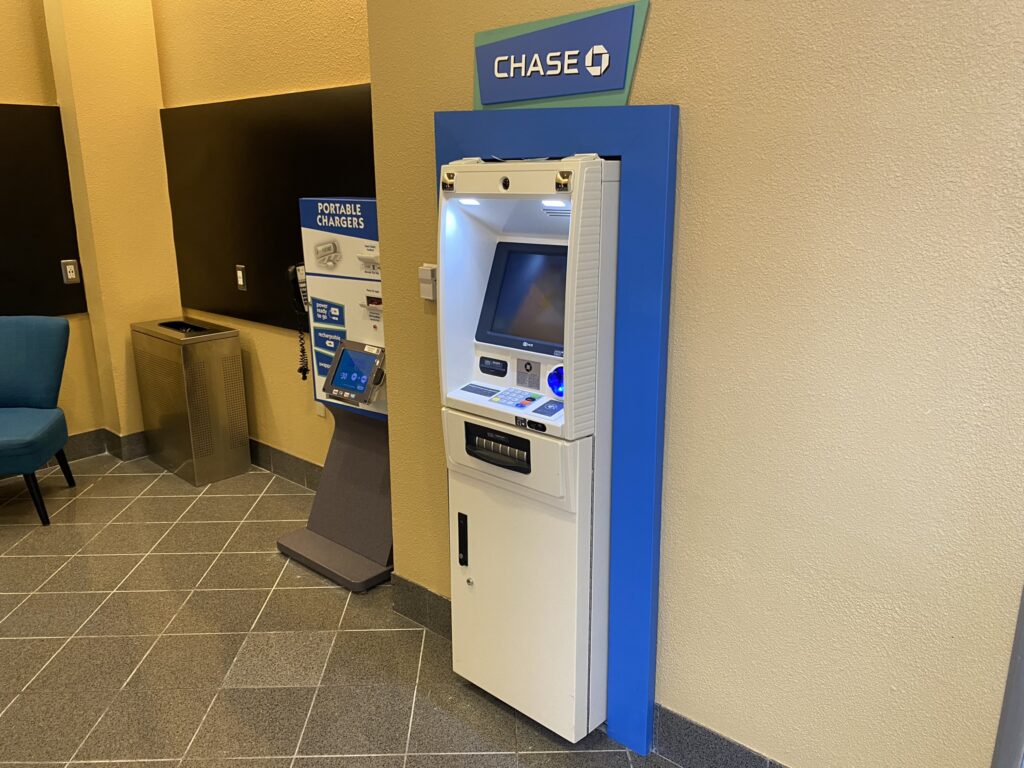 If you need to get some cash for your day at the parks, there's an ATM near the front desk, open 24 hrs.
The ATMs accept Visa, MasterCard, American Express, Discover/Novus, Cirrus, Plus, Star, and Honor!
---
#18: Currency Exchange
One of the amenities of Pop Century Resort is a currency exchange.
If you want to exchange foreign currencies, you can head to the resort's front desk or concierge.
---
#19: FREE Wi-Fi everywhere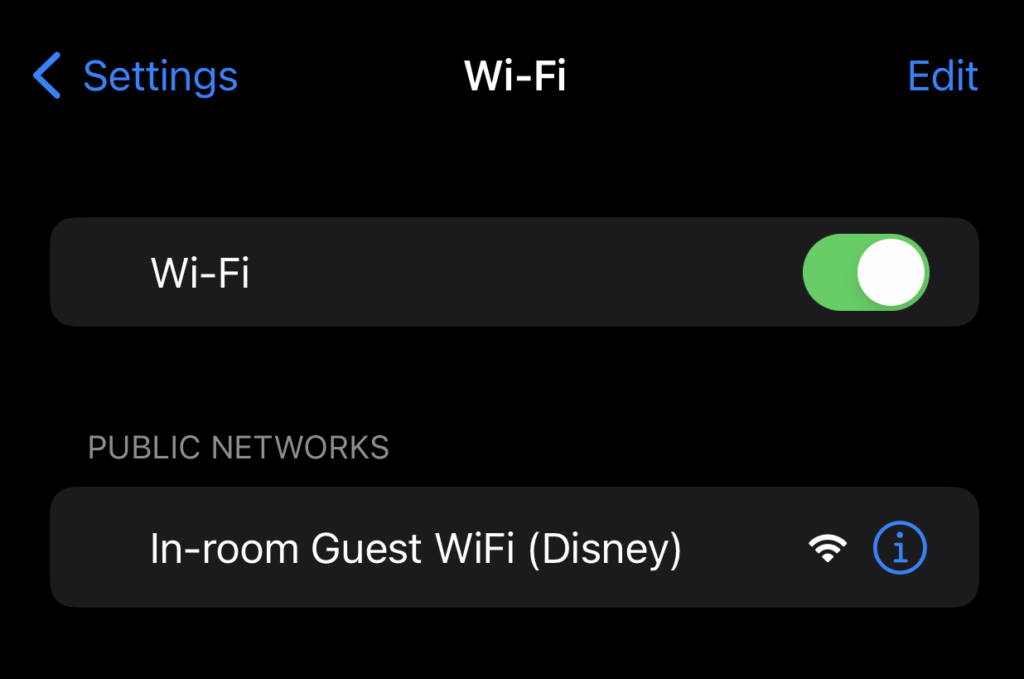 Complimentary Wi-Fi is offered at Disney's Pop Century Resort and throughout all the Disney parks and resort areas!
---
#20: Designated Smoking Areas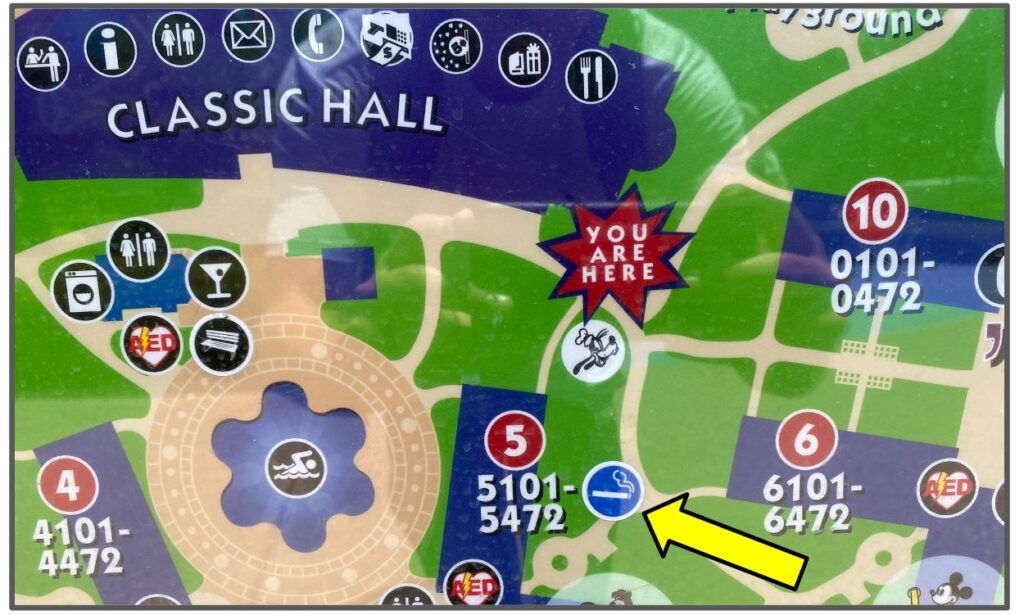 One of the amenities of Pop Century Resort is a designated outdoor smoking area for guests that smoke. You can ask a Disney Cast Member or check the resort map to see where the designated smoking areas are found.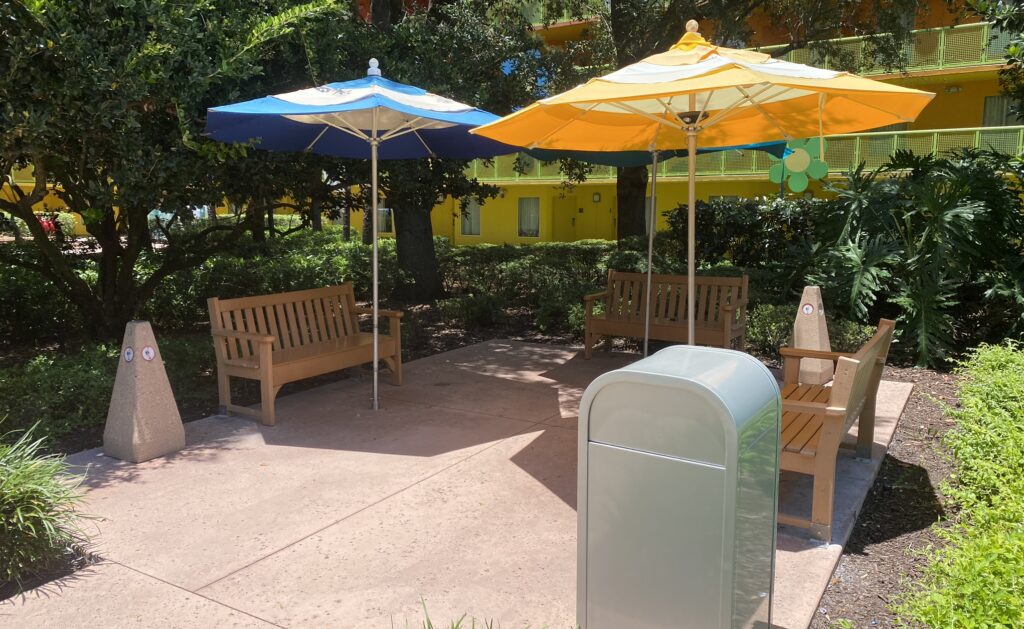 Smoking is not allowed in hotel rooms or on balconies.
---
Frequently Asked Questions:
Is there a coffee maker in the room at Pop Century Resort?
Yes, there is! In addition to a coffee maker, you will find creamer, sugar, coffee, tea, and paper products. And so you know, the coffee machine uses traditional coffee, not K-cups. If you need additional supplies, you can request them from housekeeping.
Does Pop Century Resort offer room service?
The short answer is no, as none of the "Value Resorts" at Walt Disney World offer traditional room service, where you can order food and have it delivered directly to your room. But you are welcome to mobile order from Everything Pop Shopping and Dining and take it back to your room! In addition, you can use Uber Eats or Door Dash to have food delivered to you from many local restaurants in Orlando.
Is there a gym at Pop Century Resort?
Unfortunately, there is no gym or fitness center at Pop Century Resort. None of the "Value Resorts" at Disney World have a dedicated location for working out. But if the weather cooperates, there is a one-mile jogging/walking trail outside you can use!
Are there microwaves in the room at Pop Century Resort?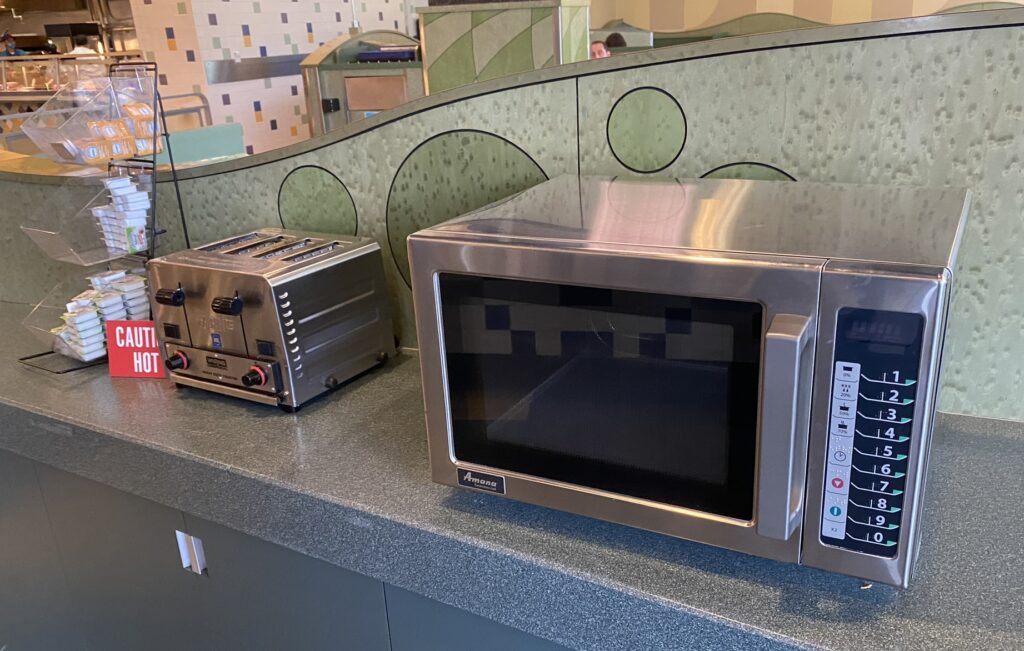 No, there are no microwaves inside any of the rooms at Pop Century. However, microwave ovens are available to use at the Everything Pop food court.
Are there refrigerators in the room at Pop Century?
Yes, you will find a mini-fridge in the room, perfect for keeping snacks, drinks, medications, or other perishable items cool. But please be aware that there is no freezer inside the refrigerator.
Are there connecting rooms at Pop Century?
Yes, the rooms at this resort can connect to each other for larger parties. Before your arrival, contact Disney Reservations to request connecting rooms and have them add the request to your reservation.
It's important to know that there is no guarantee that you will receive a connecting room. The cast members at Pop Century Resort will do their best to make sure you are next to your other party, but you won't know for sure until you show up on the day of your check-in. My recommendation is to also call Pop Century directly about one week before your arrival to request connecting rooms again.
---
Related Posts – Pop Century:
---
What is your favorite amenity at Pop Century?
It is magical to stay at Disney's Pop Century Resort! Even though it is considered a "Value Resort," I think you will be pleasantly surprised at the number of amenities and other benefits that the hotel provides.
Please tell us about your experience at Disney's Pop Century Resort. Or feel free to ask any additional questions! 🙂