How do you get from Disney's French Quarter – Port Orleans Resort to Epcot?
If you are staying at the French Quarter or planning a future visit, you probably want to know how to get to Epcot from the resort.
Below, I will detail FIVE specific ways you can make this journey.
French Quarter to Epcot:
---
Option #1: Take the FREE Disney bus to Epcot!
Did you know that Disney World provides FREE bus transportation from the French Quarter Resort to Epcot? And the best part is that the bus stop is just a short walk outside the main lobby entrance. When you exit the front lobby, turn right and follow the walkway until you arrive at the bus stop.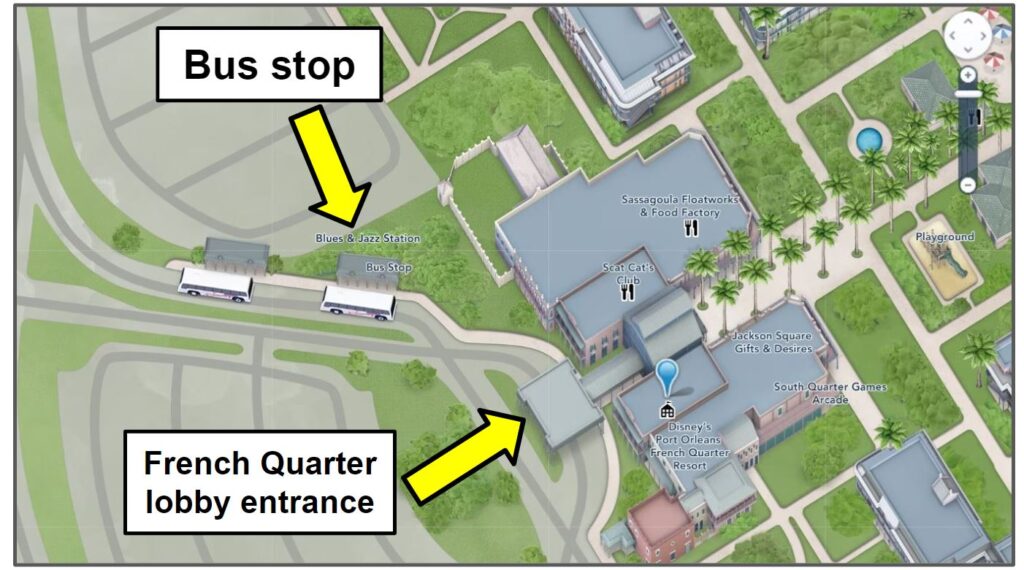 When you arrive at the bus stop, make sure you find the correct line for the bus going to Epcot (Bus Station A). Don't worry; signs clearly mark which bus station you need to stand at.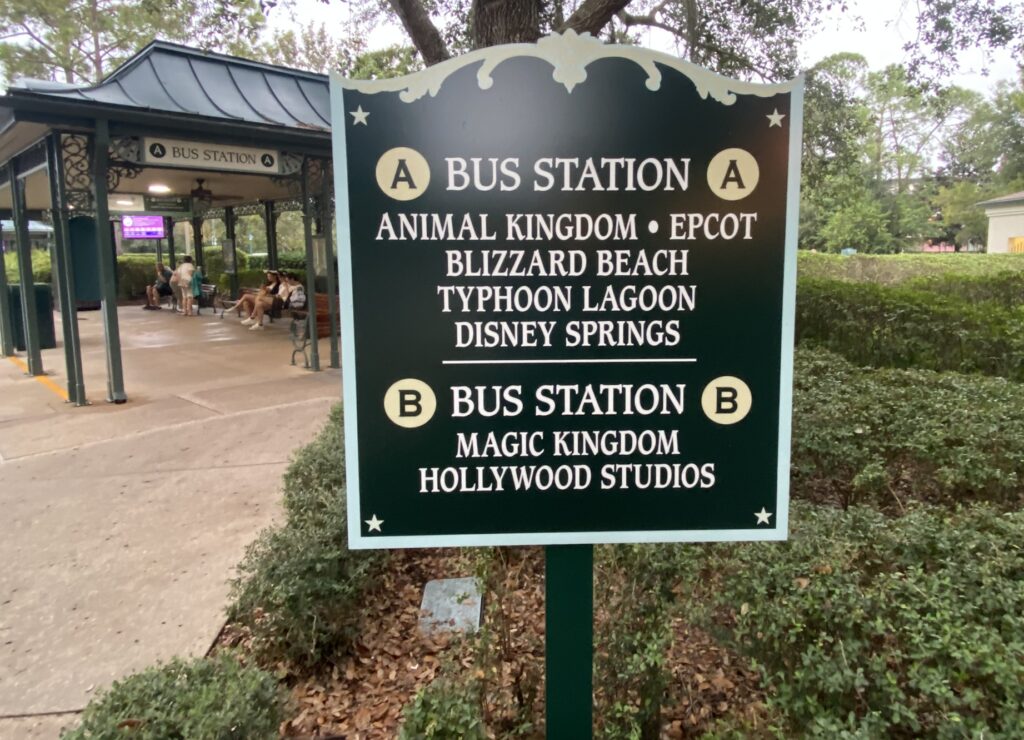 Bus service to Epcot typically begins 45 minutes before the park opens and ends 1 hour after it closes. Once they start, the buses run continuously throughout the day. I have found that you can typically expect a bus to arrive around every 20 minutes.
A screen at the bus stop shows when the next bus to Epcot is expected to arrive.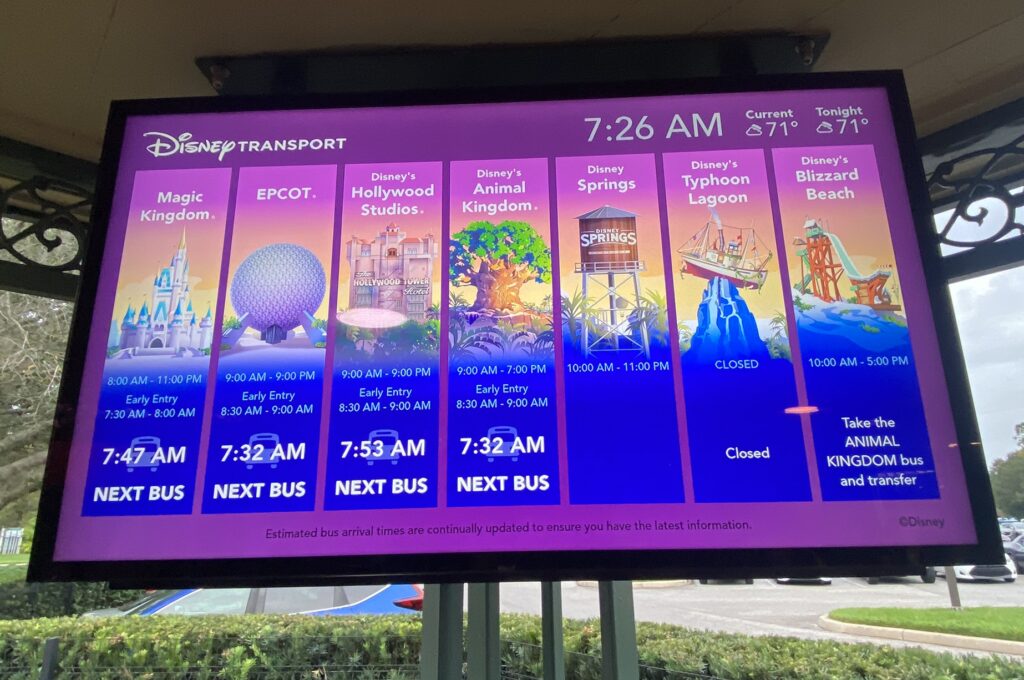 Once your bus leaves the French Quarter, arriving at Epcot should take about 10 minutes.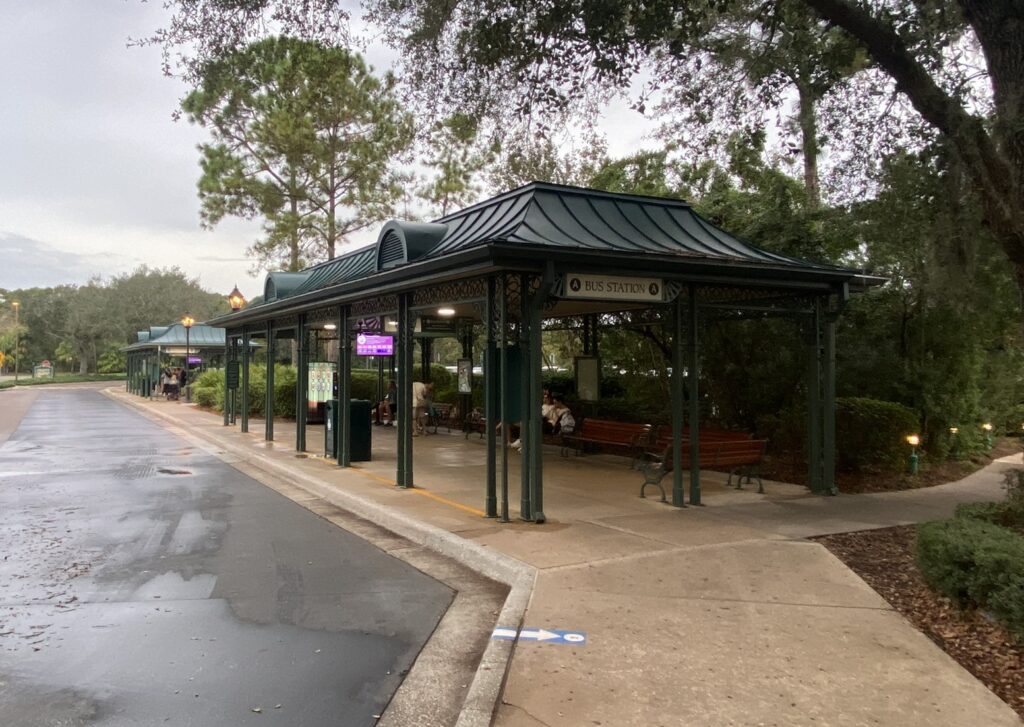 As you can imagine, since the buses do not cost anything extra, it's the most popular way to travel. However, at certain times of the day, such as the park opening, you might experience a bit of a line to board the bus. So make sure to give yourself plenty of time to arrive at Epcot for a reservation or show.
---
Option #2: Take an Uber from the French Quarter to Epcot
If you want to get to Epcot fast, using a rideshare service (Uber or Lyft) from the Port Orleans French Quarter is easy. This option can save a lot of time, especially if you just missed the bus.
The easiest place to meet your driver is outside near the Port Orleans French Quarter front lobby, as there are plenty of spots for them to stop and for you to get in the car.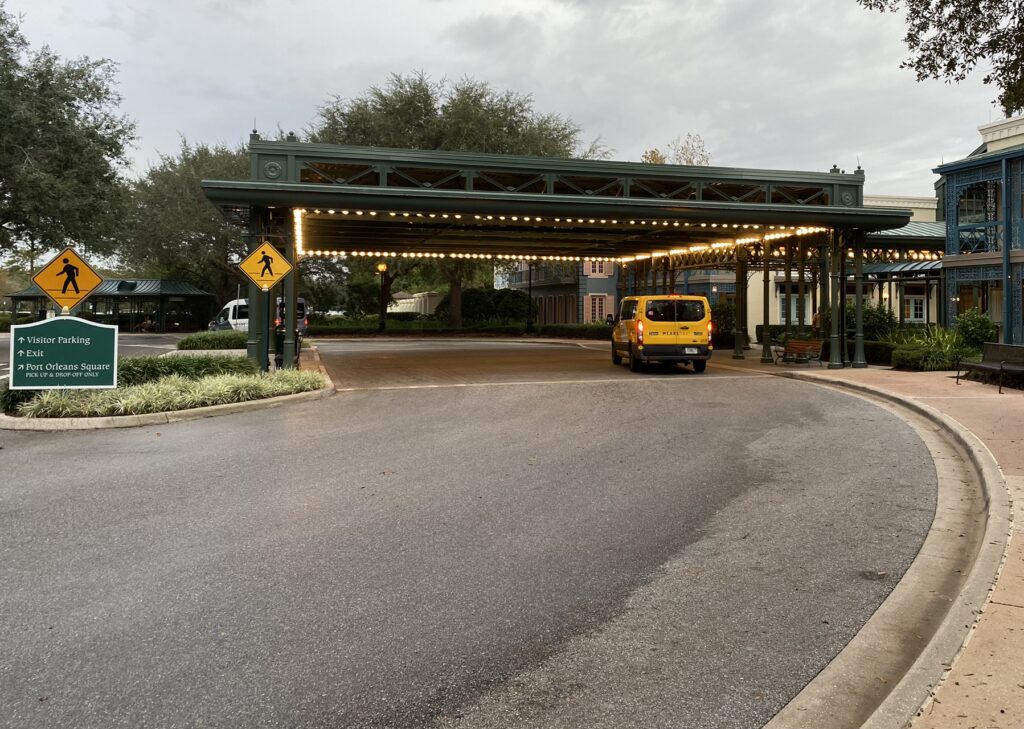 The driving distance from Disney's Port Orleans French Quarter to Epcot is 3.1 miles (5 km), and the drive should take under 10 minutes, depending on the amount of traffic. Another benefit of Uber or Lyft is that they typically drive to Epcot faster than the slower Disney buses.
The one-way fare from the French Quarter averages under $15.
If you have limited time to travel to Epcot, I think it is money well spent!
TWO rideshare companies operate in Disney World – Uber and Lyft. Between them both, there are a lot of drivers cruising around. Almost every time I've used a rideshare to the parks, I've had to wait less than 10 minutes to get picked up.
---
Option #3: Take a TAXI to Epcot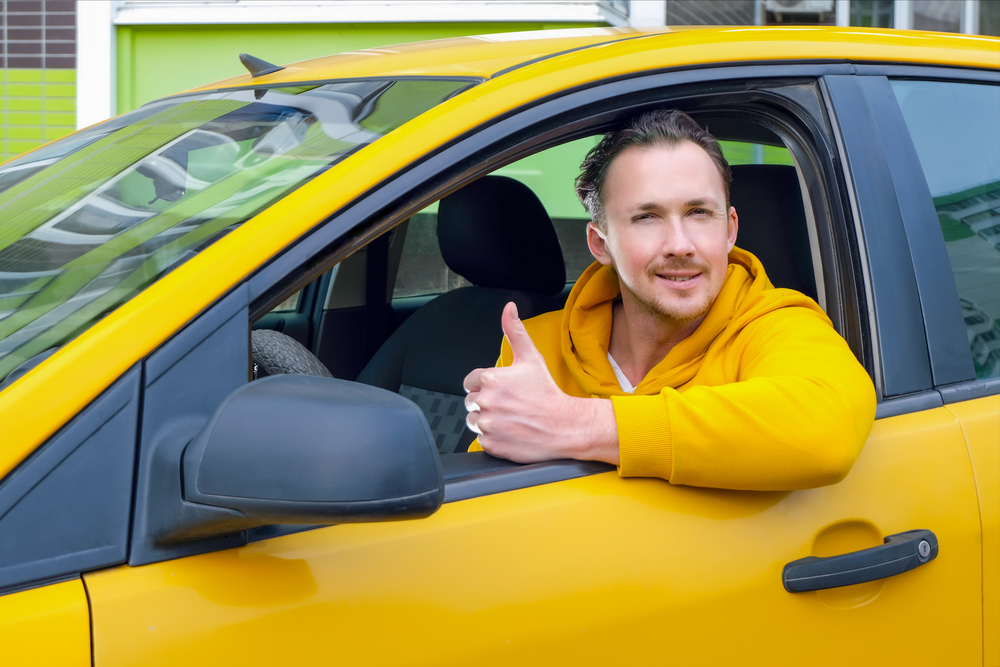 I know some people don't like using Uber or Lyft because they don't know about the person driving or don't feel comfortable using the app. If this describes you, calling a traditional taxi company for a ride is easy.
Taking a taxi to Epcot has many of the same benefits as rideshares, such as not waiting for a bus. But of course, you must pay for the taxi ride, where the Disney buses are free.
If you want to take a taxi to Epcot, I recommend calling Mears Taxi, a well-known and trusted company in the Orlando area. You can even schedule and book your ride online.
---
Option #4: Ride in a MINNIE VAN to Epcot
One fun thing about using the rideshare service Lyft is that they have partnered with Disney World to provide MINNIE VANS, which are Minnie Mouse-themed mini-vans!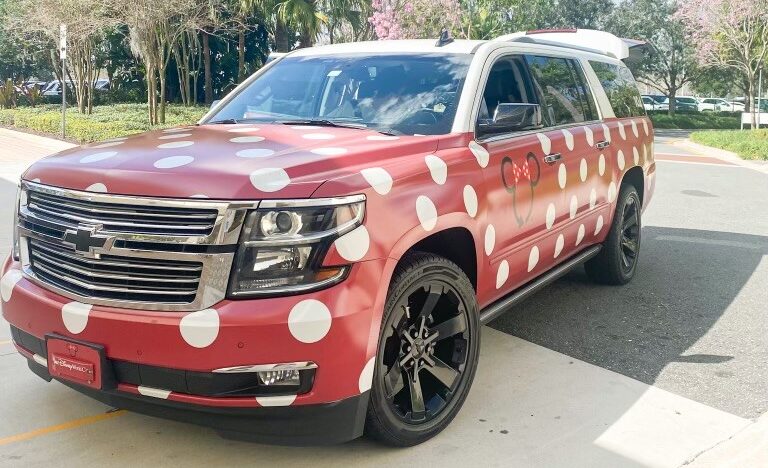 A big benefit of using a Minnie Van to get to Epcot is they are driven by DISNEY CAST MEMBERS. I know many people like this fact because the drivers are employees of Disney, which provides additional peace of mind.
While using the Lyft app inside the resort, choose Epcot as your destination. Then, order the Minnie Van to come and pick you up.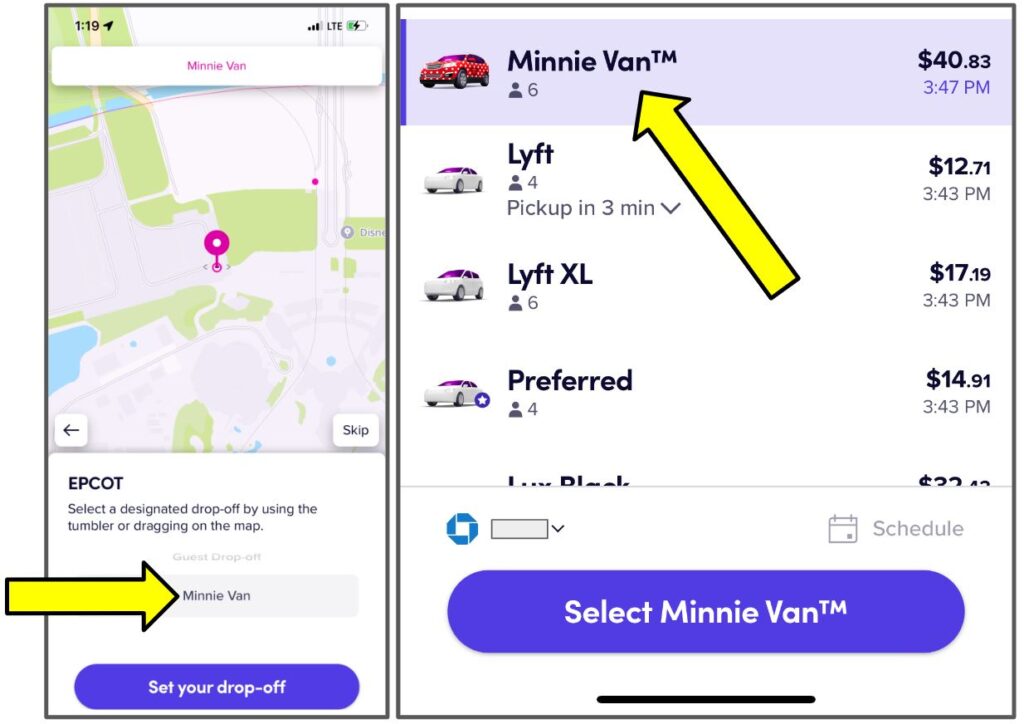 While this option is fun, as you can see above, it is more expensive than a regular Lyft vehicle. But in addition to a Disney Cast Member driving, here are a few additional benefits of a Minnie Van.
They can fit up to SIX people.
Includes two car seats, which your driver will install for you.
These vans can fit scooters and wheelchairs, but please pre-arrange your ride if you need this service.
---
Option #5: Drive yourself to Epcot!
Getting in your car and driving yourself is an often overlooked way from Port Orleans French Quarter to Epcot. It's probably the fastest way to travel since you don't have to wait for someone to pick you up. 🙂
The distance between these two locations is only 3.1 miles (5 km). The drive takes under 10 minutes, depending on traffic.
And here is the BEST news about driving yourself to Epcot…
As long as you stay at the French Quarter, the parking at Epcot is FREE! Unfortunately, many guests don't realize (or forget) that if you stay at a Disney World Resort, parking at any of the parks does not cost anything.
Getting FREE parking at the theme parks is an incredible benefit of staying at Disney's Port Orleans French Quarter Resort, as parking costs a minimum of $25 per day at each park.
---
Related Posts:
---
Can the Disney Skyliner take me from Port Orleans French Quarter to Epcot?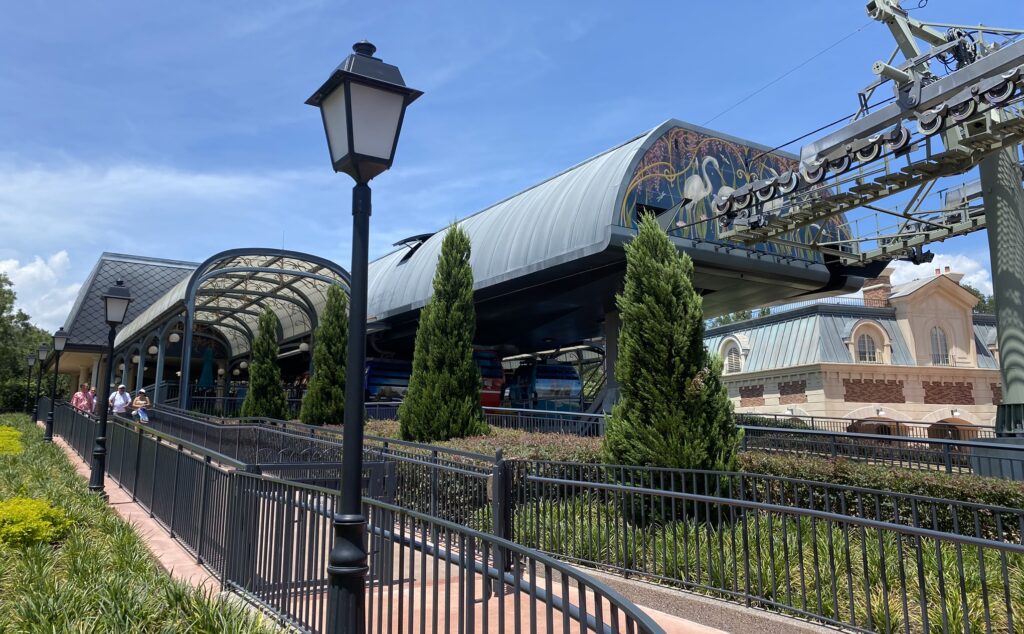 The short answer to this question is NO. While the Skyliner travels to Epcot, there is no boarding station for the Skyliner at the French Quarter Resort.
If you want a Skyliner boarding station at your hotel, stay at the Riviera Resort, Caribbean Beach Resort, Art of Animation, or Pop Century.
Can I take the Disney Monorail from Port Orleans – French Quarter to Epcot?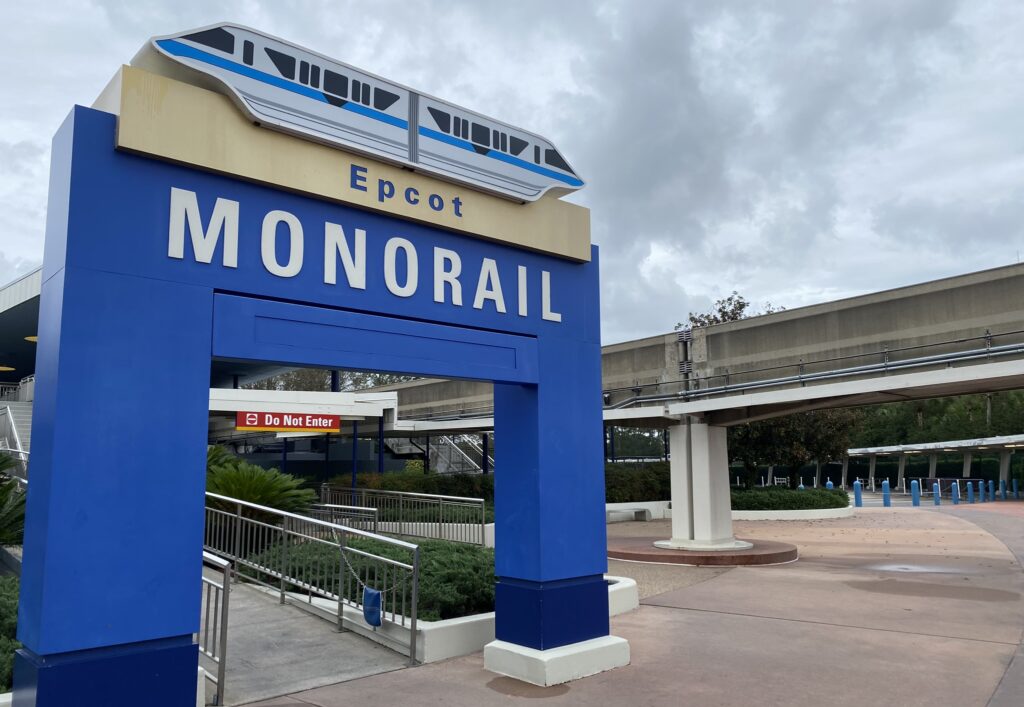 No, the monorail has no boarding station at Fort Wilderness. To get to Epcot using the monorail from your hotel, you must stay at the Contemporary Resort, Grand Floridian Resort & Spa, or Polynesian Village Resort.
Can I walk from Disney's Port Orleans French Quarter to Epcot?
The short answer to this question is NO. First, the distance between the resort and Epcot is fairly long, at around 3.1 miles (5 km). And second, there are no walking paths that connect them. You must take the bus, a rideshare, a taxi, or drive yourself!
Can I take the Disney boats from Port Orleans French Quarter to Epcot?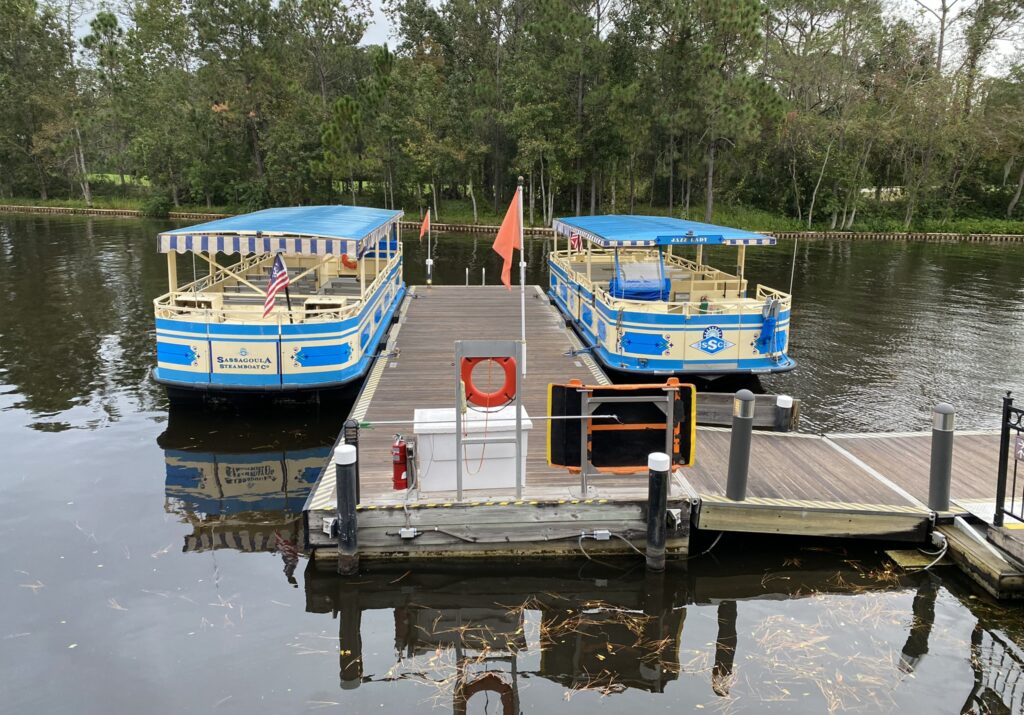 There is boat transportation at Port Orleans French Quarter, but the boat does not travel to Epcot. You can only take the Sassagoula Boats from the French Quarter to Disney Springs or Disney's Port Orleans Riverside Resort.
---
What is your favorite way to travel from the French Quarter to Epcot?
Leave a COMMENT below!