Universal Studios Orlando is one of my favorite theme parks to visit! But it can be incredibly overwhelming to make endless decisions about parks, dining plans, resorts, transportation, etc.
Thankfully, Universal Orlando travel planners can help you save TIME, MONEY, and STRESS!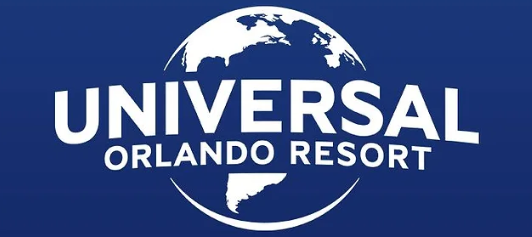 Here are my favorite benefits of using an authorized Universal Studios planner:
It does not cost you anything! I know that sounds too good to be true, but Universal travel agents receive a commission from Universal once you book your trip.
Most of the time, you will save MONEY using a vacation planner. That's because they know how to get the best deals, and many of the agencies below constantly monitor for ways to save additional money, even AFTER you have booked your trip.
A Universal travel agent will save you TIME and STRESS! From helping to plan dining reservations to working directly with Universal Orlando so you don't have to wait on the phone, this is one of the best services a vacation planner provides.
You will receive personalized, concierge-level service from experts. The tips, tricks, and recommendations you will get are invaluable. I don't think I've ever heard of a Universal Studios travel agent who didn't absolutely LOVE the parks themselves.
Below is a list of the BEST travel agents that can help plan your next trip to Universal Orlando. Also, if you have already booked an upcoming trip but need additional assistance, transferring your reservations to one of the agencies below is possible.
7 Best Universal Orlando Travel Agents:
Please know that all the Universal Studios vacation planners below provide FREE quotes, so feel free to contact them to see their prices and other benefits. 🙂
---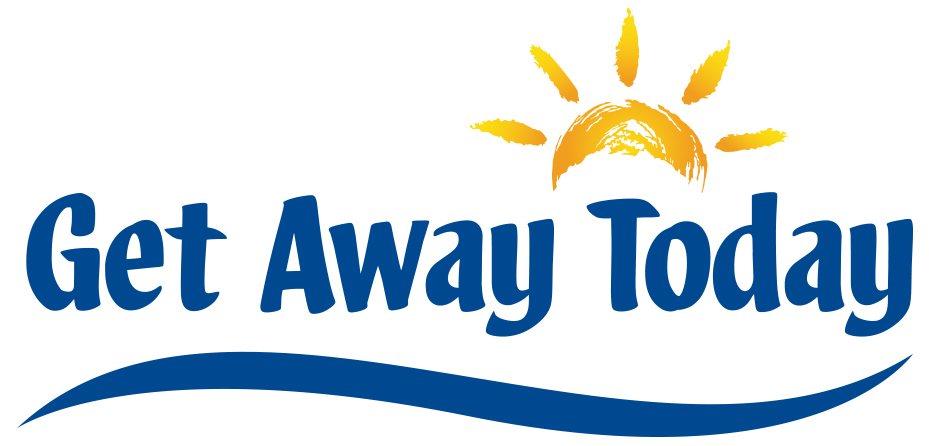 Browse Universal vacation packages HERE.
In my opinion, planning a Universal Orlando vacation with Get Away Today provides the best of both worlds.
Here's what I mean:
First, you can do a lot of research yourself. If you browse their website, you can check out accurate pricing for different resorts, dates, and tickets. If you find a package you like, you can book and pay without having to talk to anyone.
Being able to book a Univeral Orlando vacation package directly on the Get Away Today website is a great benefit, especially if the main reason you want to use a Universal travel agent is to save money. One of the best benefits of using a travel agent is they can save you money. 🙂
Second, since Get Away Today is a full-service travel agency, they have an entire team of Universal vacation planners standing by to help you. So, if you have questions regarding any of the resorts, dining, theme parks, or anything else, you can call and talk to someone for help.
And if you want to be completely hands-off, their travel agents can create a customized package to suit your needs. 🙂
So that's why I think Get Away Today is such a great choice. You can plan as much as you want yourself on their website, but as soon as you need help, you can talk to somebody for help.
Benefits & Services:
No taxes or hidden fees
Best price guarantee – if you find a lower price somewhere else, they will match it!

Does not cost YOU anything.

Support before, during, and after your trip to make sure everything goes smoothly
In addition to Universal Orlando, Get Away Today can help with trips to Disney World, Disneyland, Adventures by Disney, Disney Cruises, Aulani, and more!
Call 1-855-GET-AWAY to talk directly to a Universal vacation planner.
Please mention Resort Rat when you contact Get Away Today. If you book with them, I receive a small payment, which helps support this site. 🙂
---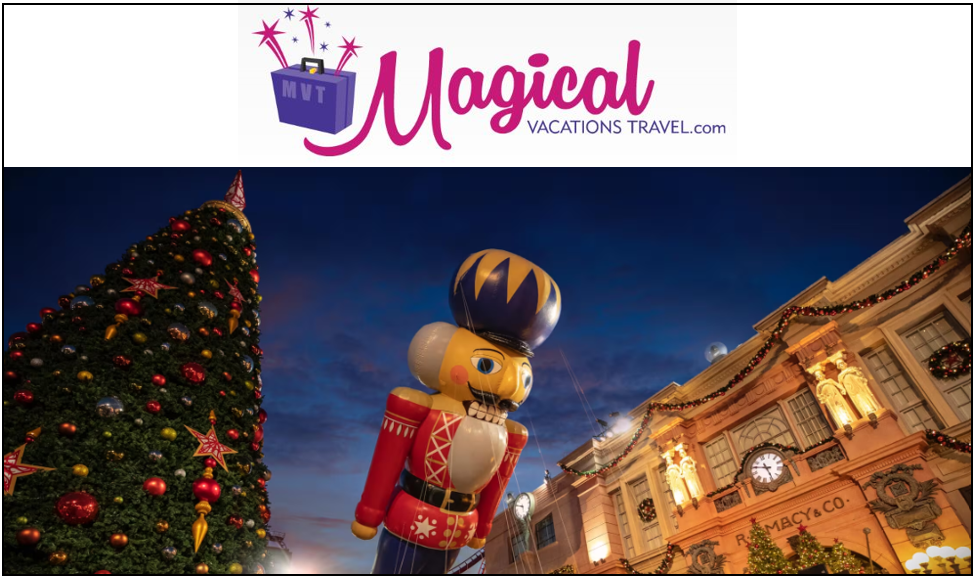 Magical Vacations Travel prides itself on having 225 years of combined experience planning vacations. In addition, their agents are well-loved, by first time vacationers as well as those that have been to theme parks many times.
Like any highly-ranked Universal Orlando vacation planner, if there isn't a package to suit your needs, their agents will customize a trip for you! They can create a free quote in 24 hours to get you started, and then you can make amendments afterward. 
Magical Vacations Travel also takes care to help guide their customers to visit on the dates that will give them the experience they desire. Thus, if you want to be there for once-a-year extravagances, such as Halloween Horror Nights, they'll help you snag that spot. But if you prefer to avoid the largest crowds, they'll assist with that too. 
Benefits and Services:
Concierge Travel Services and 

Customized Vacation Packages.
Help with advanced dining reservations and tours.
Deal monitoring to make sure you always have the best rate.
Their services do not cost you anything.
Actual Review:
We rely on Candice for our trip every August. She is very responsive to any questions that may arise during the planning process. We know we are getting the best deal possible with Candice and MVT! – Matt D.
Accreditation: 
Authorized Vacation Planner,

Earmarked Platinum Producers, 

IATAN
---
The Magic for Less travel agency takes pride in providing customized and unique vacations to Universal Studios. Their agents have been serving customers since 2002. Their service and quotes are free of charge, as Universal pays them for their assistance. 
Magic for Less Travel Agents are required to go through extensive training. Some of the courses they are required to take include the following:
Florida Vacations Specialist

Certified Travel Counselor
Their team makes it a point to experience all the attractions at Universal so they can give you the most accurate advice on what will suit your needs and budget. In addition, they are a full-service agency, so they can assist in finding packages for everything, including rental cars or transport to and from the airport. 
Fill out their online form to receive a quote from one of their Universal Studios travel planners. If you like what you see, one of their agents will work with you personally to help craft the finer details to ensure your visit fits perfectly with your dreams. 
Benefits and Services:
Their services do not cost you anything.
Agents have gone through extensive training.
Assistance with advanced dining reservations and tours.
Deal monitoring to make sure you always have the best rate.
Wedding and honeymoon planning.
Actual Review:
Juanita Burgoon has booked multiple trips for our family. She answered all our emails within minutes and was quick to talk on the phone if we needed to make adjustments for our trip. Everything was stress-free and I would highly recommend using Juanita Burgoon with Magic For Less Travel. – Jeremy P.
Accreditations: 
---

Be Our Guest Vacations was founded in 2012 to offer no-fee tailor-made vacation packages to Orlando theme parks. The concierge travel service works by assigning you an agent that will be your single point of contact to help plan your ultimate vacation. They can plan your whole itinerary and advise on the best resorts and tours for your budget, age of guests, and party size. 
Once booked, your agent continues to monitor for new deals or discounts, which helps save you time and money. If you need help during your stay at Universal Studios, they'll guide you using various services, including dining reservations, transport, and even grocery delivery. They are on call to help if ANY issues arise during your trip. 
Their personalized service is FREE, made possible by their relationship with Universal Orlando, which pays them for their time. And if you have already booked your trip, you can even transfer your reservations to them if you do so within 30 days of making the reservation.  
Benefits & Services: 
Does not cost you anything.
A single agent is assigned to you for all questions and communications.
On-trip support while you are there.
Help with advanced dining reservations and tours.
Deal monitoring to make sure you always have the best rate.
Actual Review:
Every detail was covered. She always responded fast, listened to what we wanted, and really took the time to explain what to expect. She took care of everything from transportation, food, deals, magic passes, etc. – Tonya F.
Accreditations: 
---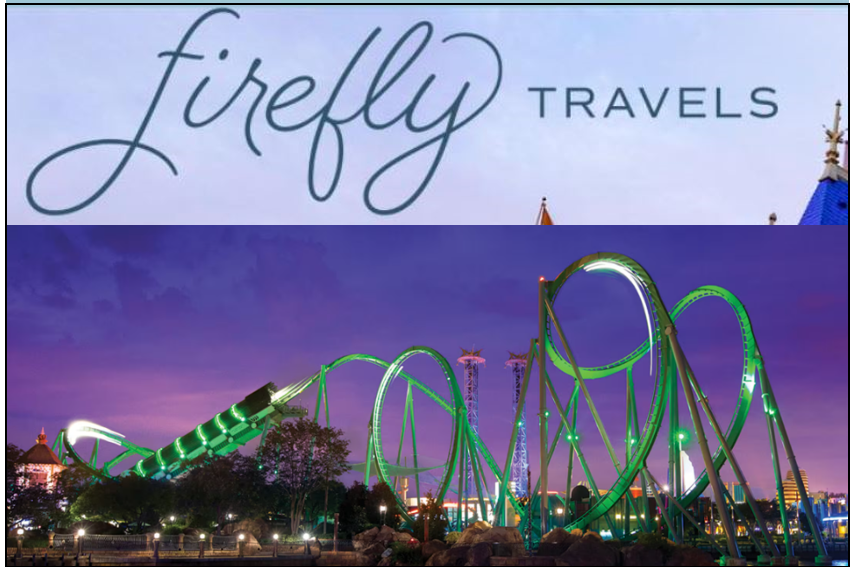 Firefly Travels is a boutique travel agency that prides itself on having tried every service they recommend. You can rest easy knowing their vacation planners have first-hand experience at Universal Orlando, so they can provide accurate advice and guidance to make your vacation perfect for your needs. The agents also know about opportunities that most visitors don't realize exist, allowing you to have unique experiences.
After booking, your agent will continue monitoring deals and looking for upgrades. In addition, should anything change, such as unplanned closures, your agent will swiftly update your holiday to save you money and stress. For example, when COVID hit, they ensured their guests' dining reservations were changed to outdoor seating for those that needed it.
Their personalized service also continues while you are visiting Universal. If needed, you can phone or text with questions, and there will always be somebody there to help so you can avoid waiting on hold. Spontaneous requests will also be met with enthusiasm, whether switching reservations or trying to bring a unique VIP experience to your stay. 
Benefits and Services:
A single agent is assigned to you to help build your trip and itinerary.
On-trip support while you are there.
Help with experiences, dining reservations, and

last-minute changes of plans.
Deal monitoring to make sure you always have the best rate.
Actual Review:
Jana was always available for questions before and during our trip to Universal Studios and Epcot. She was extremely helpful and knowledgeable about planning our trip for my daughter's 14th birthday. We had an amazing time thanks to Jana!!! We appreciate all your assistance and would recommend you and Firefly Travel to our family and friends!!
– Maureen M.
Accreditations: 
A+ BBB Rating, 

Authorized Vacation Planner,

Earmarked Platinum Producer
---

Destination Magic ensures their "Magic Makers" (agents) have in-depth and behind-the-scenes information. They also specialize in destination weddings and honeymoons. So, if you've always dreamed of getting married at your favorite theme park, they are here to help. 🙂
Quotes can be provided free of charge, and even after booking, your agent will continue to monitor for deals to obtain the best value and service. You can phone them directly, fill in an online form, or use the website's booking wizard. Once you've outlined your needs, you are assigned an agent to tailor the perfect visit.
Like other top-rated Universal Studios vacation planners, Destination Magic continues to help you during your trip. So, if you need help changing reservations or advice, they will be there to help. 
Benefits and Services:
Help with experiences, dining reservations, and

last-minute changes of plans.
Deal monitoring to make sure you always have the best rate.
Wedding and honeymoon planning.
Actual Review:
Kim is amazing!! She helped us plan a wonderful trip. She listened to what we needed and was always there to help. The trip was magical due to her help with reservations and planning!! Even when we were there and needed a last-minute scooter for my mom. She made it happen. Every question, every request, she was happy to help. She truly made our trip magically and provided lifelong memories. – Dina E.
Accreditation: 
---
Jeffrey Merola, the author of ELEVEN Walt Disney World guidebooks, is the founder and owner of Mouse Vacation Planning.
Although Disney might be his claim to fame and where he is most knowledgable, don't count him out for planning a trip to Universal Orlando. His expertise extends to all things Orlando, including Universal Studios!
Like other highly regarded vacation planners, Mouse Vacation Planning also helps their clients during the trip. They have reminder systems so you won't forget crucial details. They also set up roundtrip transportation to and from Orlando International Airport. 
By working with Mouse Vacation Planning, you can expect to receive valuable tips and secrets they've gathered from their extensive years of planning vacations. The continuous deal monitoring service will also ensure you get the best price, even after you've booked.
Services:
Customized vacation packages.
Advanced dining reservations and tours.
Deal monitoring to make sure you always have the best rate.
Actual Review:
"We were so happy with the service we received from Jeff. He was able to get us all of our reservations, and he even checked in on us while we were there! We had a fantastic trip. 10/10 would recommend." – Elizabeth M
Accreditation: 
---
Related Articles:
---
Have you used a Universal Orlando travel agent before?
If so, let us know who and what you thought in the COMMENTS below!