How do you travel from the Pop Century Resort to Epcot?
If you are staying at Pop Century or planning a future visit, you probably want to know the best ways to get to Epcot from the resort. Below I will detail THREE specific ways you can make this journey. 🙂
---
Option #1: Take the Disney Skyliner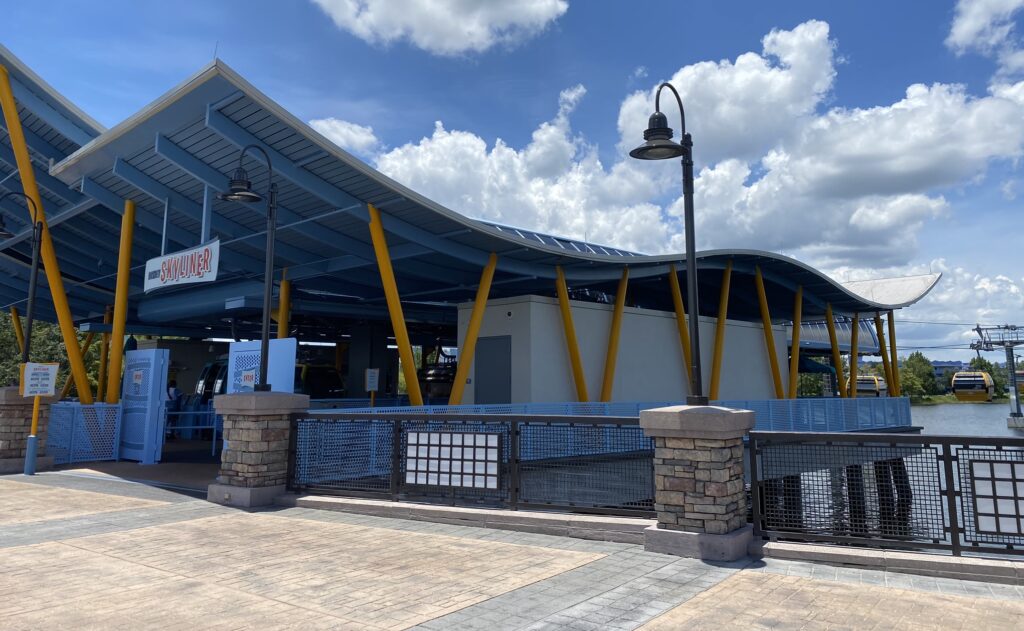 The quickest and easiest way to get to Epcot from Pop Century is to take the Disney Skyliner! Luckily, one of the entry stations to the Disney Skyliner is located right next to the resort. My guess is that no matter where you stay at Pop Century, you have less than a 5-minute walk to the boarding area!
Just look for Hourglass Lake, as the boarding station is found on the bridge that crosses the lake! Check out the map below to see exactly where the Disney Skyliner is located in relation to Pop Century:
Once you have boarded the gondola, prepare to have a wonderful view as you rise over Hourglass Lake and ride to the connecting station at the Caribbean Beach Resort. Don't get too comfortable because this journey only takes a few minutes. 🙂
Here is the view from your cabin as you soar past Pop Century!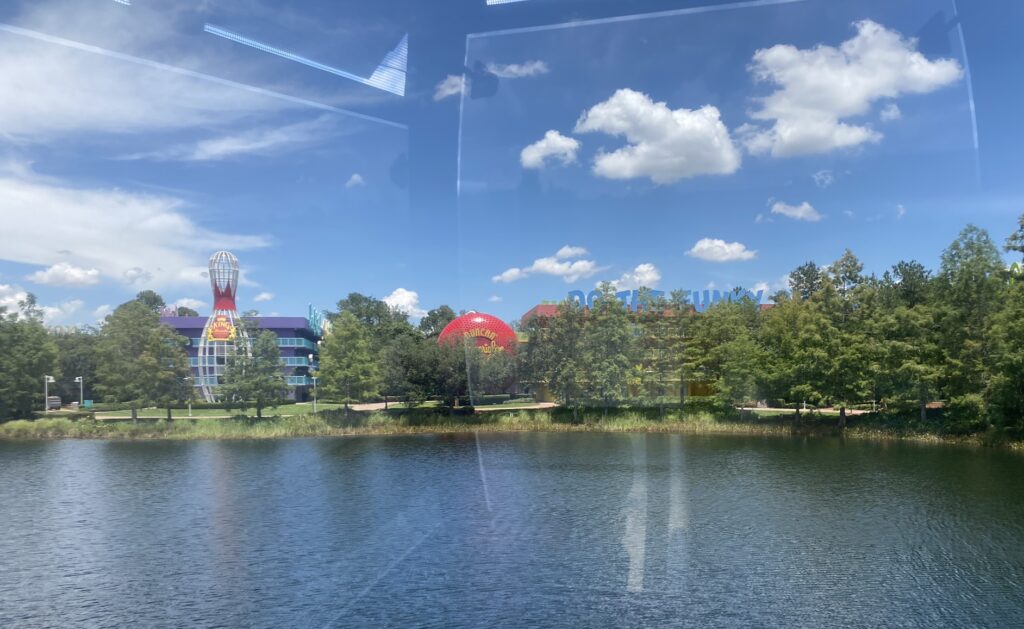 At the Caribbean Beach Resort connecting station, you will get off and take a short walk around the corner to board another gondola.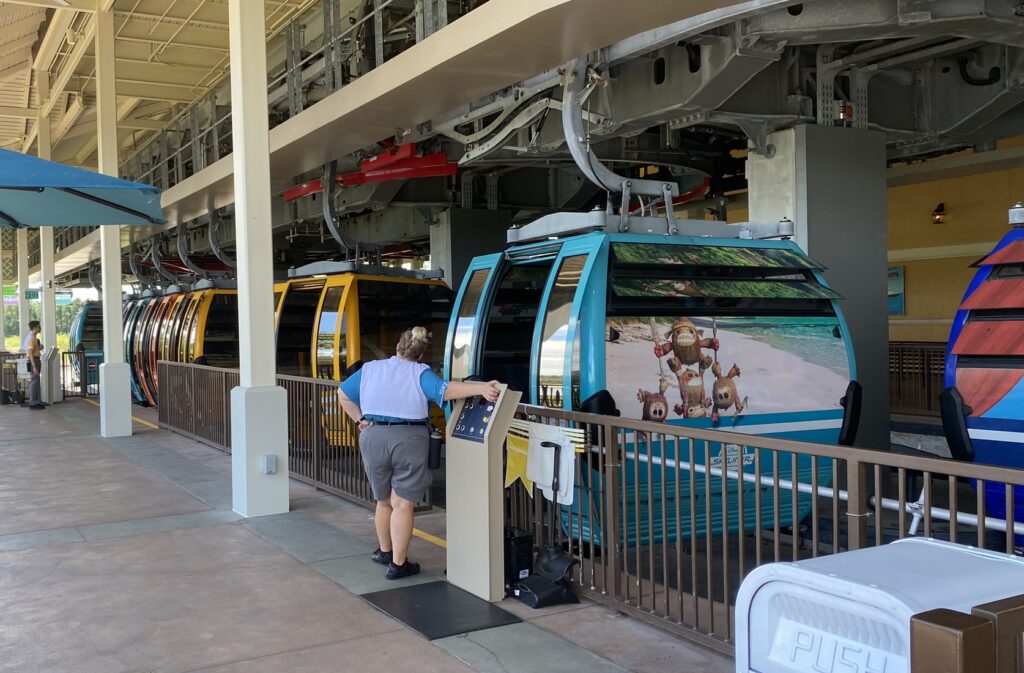 Make sure you pay attention to the signs because you can also board a gondola that takes you to Hollywood Studios! In case you get confused, there are multiple Cast Members available to point you in the right direction.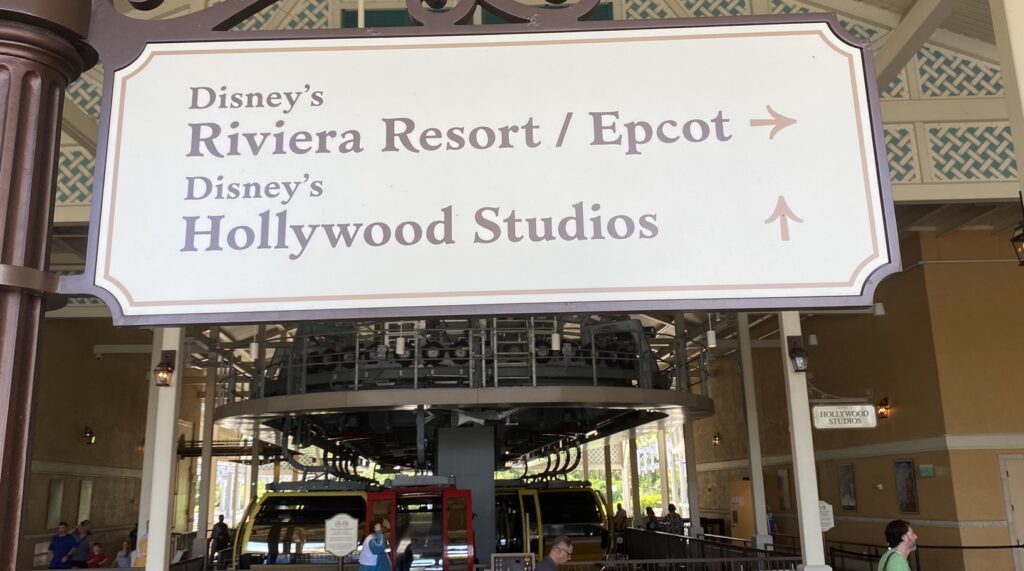 Once you board the correct gondola and this ride takes off, your next stop is Epcot! If there are no lines for the Disney Skyliner, then I estimate it will take about 20 minutes to go from Pop Century to Epcot.
---
Option #2: Take an Uber, Lyft, or MINNIE Van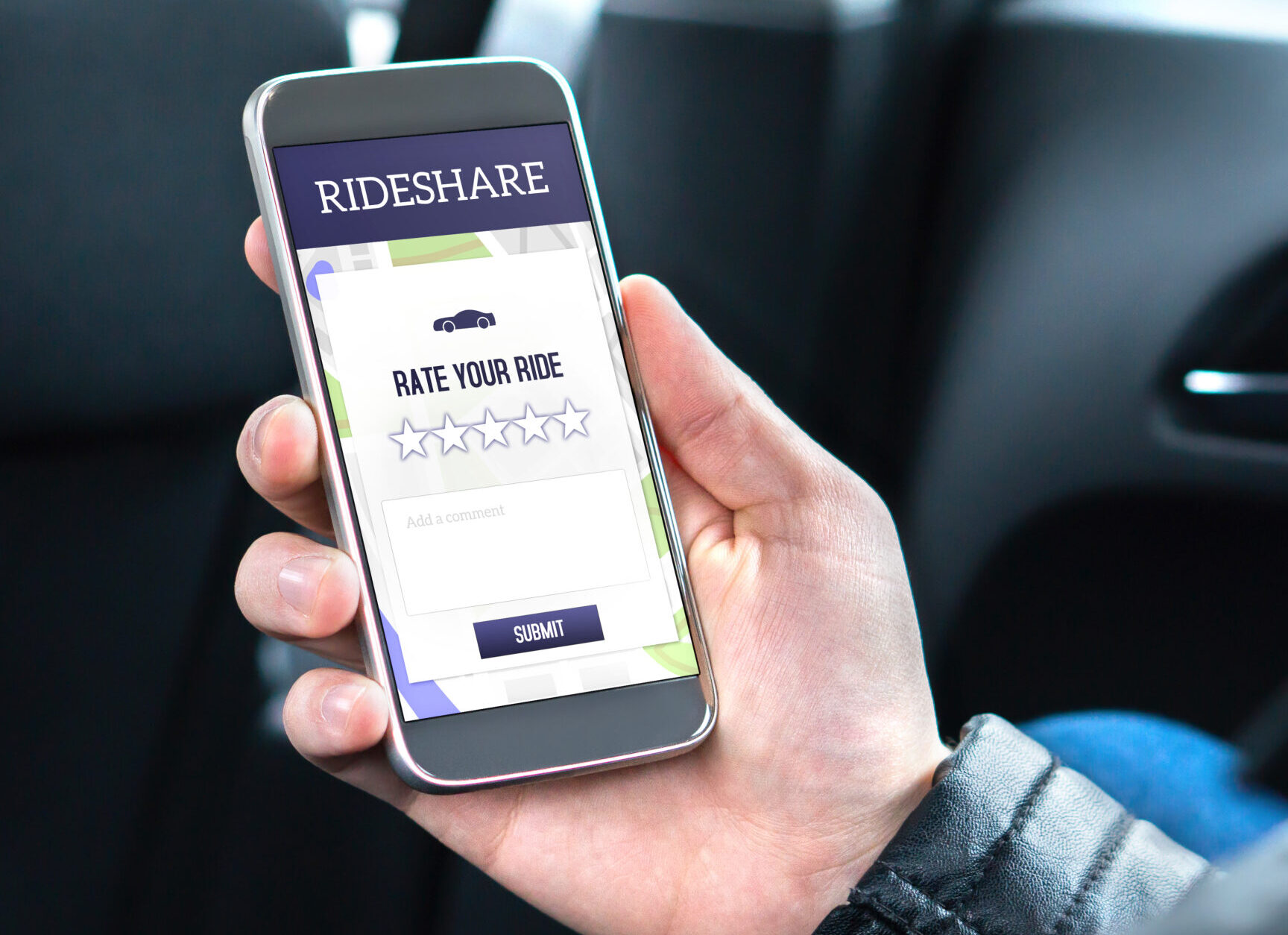 If you don't want to take the Disney Skyliner because you have a fear of heights, it's broken down, or the line is too long, then it's very easy to use a rideshare to go from Pop Century to Epcot.
The easiest place to meet your driver is outside Classic Hall near the front lobby, as there are plenty of spots to park and jump in the car.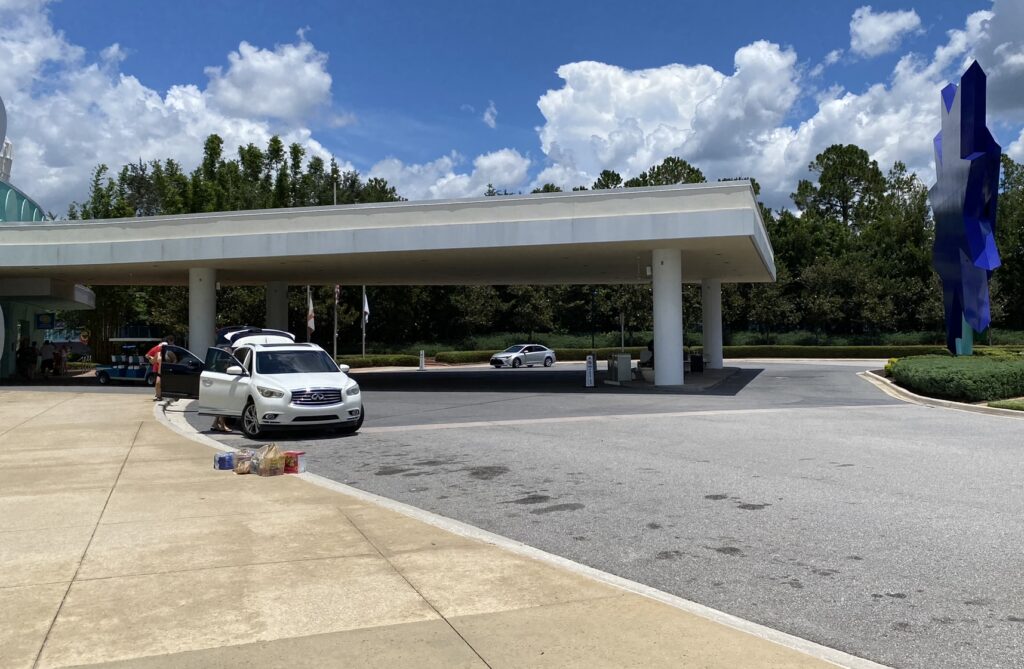 Once you are in the car, the drive is fairly short. The total distance from Pop Century to the front of Epcot is 4.8 miles (7.7 km) and should take about 15 minutes, depending on the amount of traffic.
There are MANY drivers for Uber and Lyft cruising around Disney World. Almost every time I've used a taxi to go to the parks, I've had to wait less than ten minutes to get picked up.
TWO rideshare companies operate in Disney World – Uber and Lyft. One neat thing about using Lyft is that they have partnered with Disney World to provide MINNIE VANS, which are Minnie Mouse-themed mini-vans!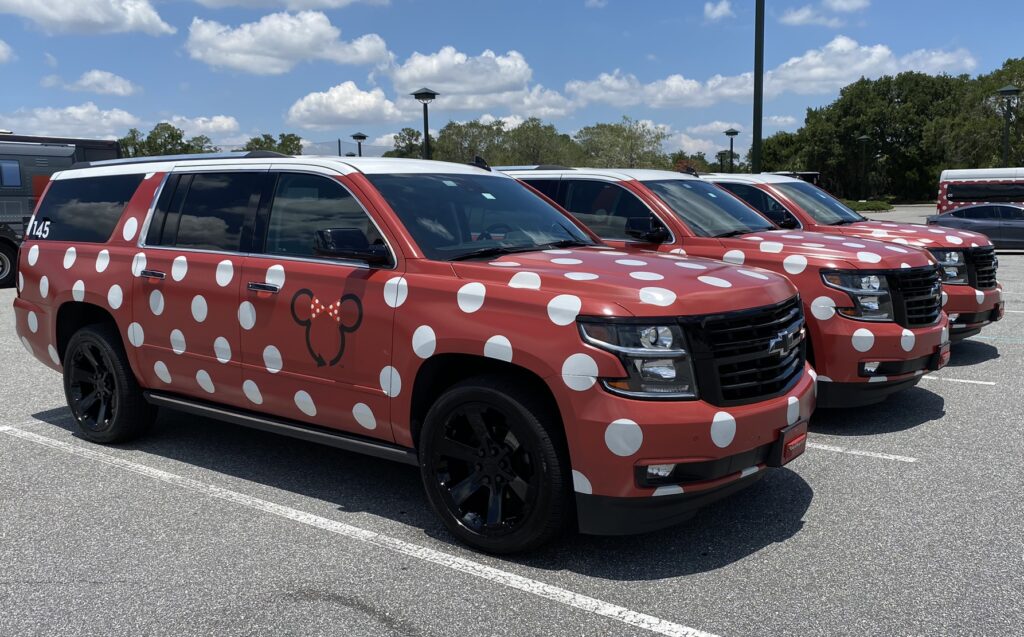 While using the Lyft app, tap "Select Minnie Van" while searching the vehicle options. Then order the Minnie Van to come and pick you up!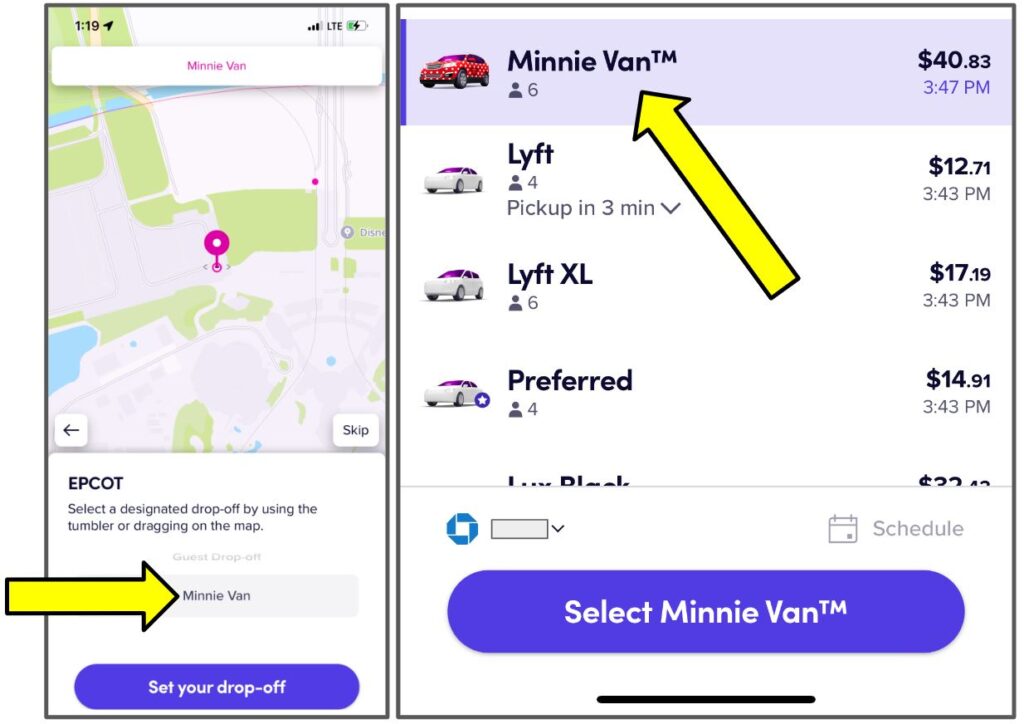 While using this option is fun, it is more expensive!
---
Option #3: Drive yourself!
Getting in your car and driving yourself is an often overlooked way to go from Pop Century to Epcot. It's probably the fastest way to travel since you don't have to wait for someone to pick you up.
The distance between these two locations is only 4.7 miles (7.7 km). The drive is about 15 minutes in length, depending on traffic.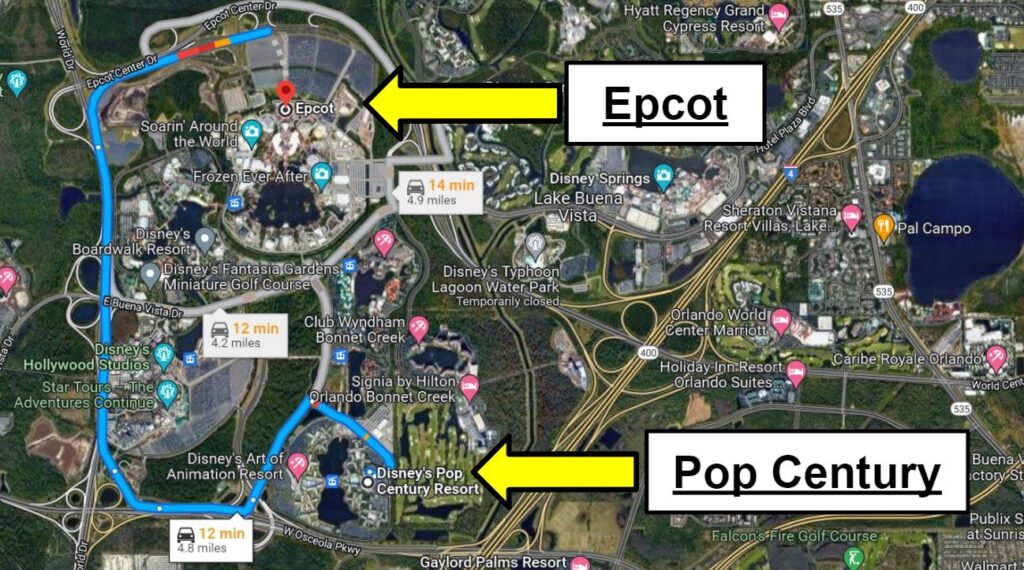 And here is the BEST news about driving yourself…
Assuming you are staying at Pop Century, the parking at Epcot is FREE! Many guests don't realize (or forget) that if you stay at a Disney World Resort, parking at any of the theme parks does not cost anything.
---
Related Posts – Pop Century:
---
Can I take the Disney buses between Pop Century and Epcot?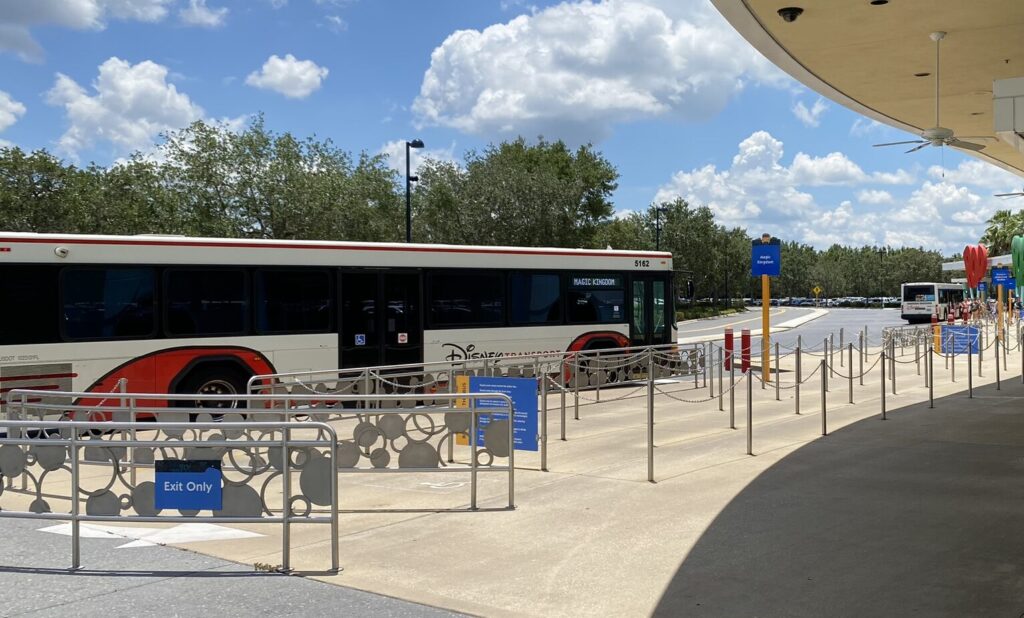 The short answer to this question is NO. Once the Disney Skyliner was completed, this bus route was discontinued. But if the Skyliner ever breaks down or needs refurbishment, Disney sends buses to the hotel to provide transportation.
Please do not try to wait outside for bus transportation between Pop Century and Epcot! Unfortunately, you would be sitting there a LONG time. 🙂
Can I take the Disney Monorail from Pop Century to Epcot?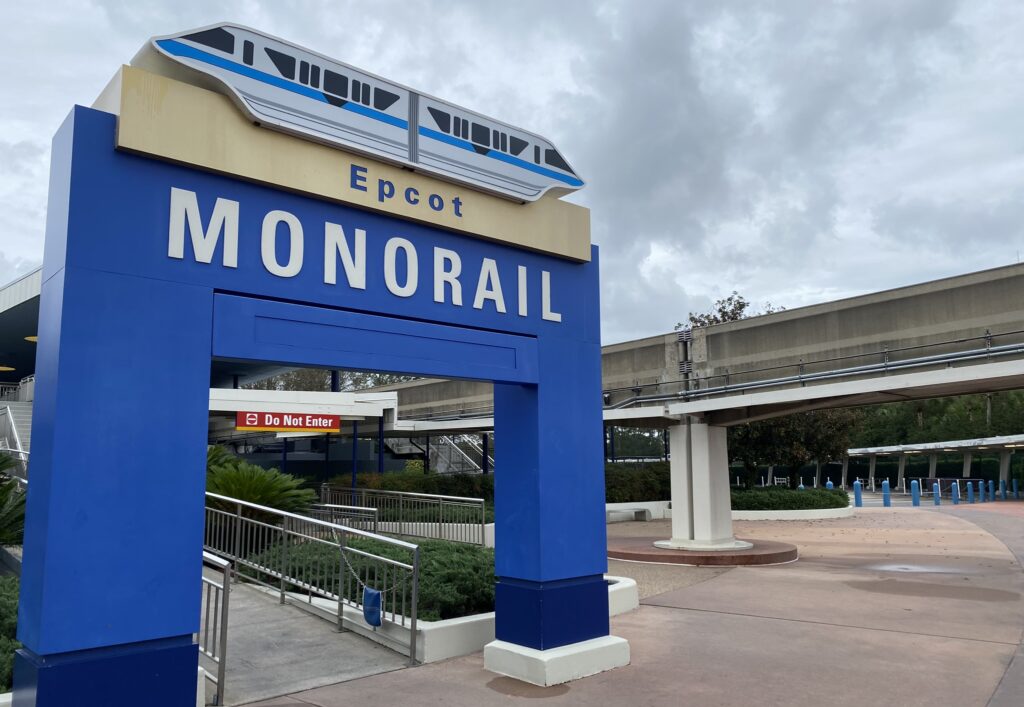 No, the monorail does not have a boarding station at Pop Century. If you want access to this transportation option from your hotel to Epcot, stay at the Contemporary Resort, Grand Floridian Resort & Spa, or Polynesian Village Resort.
Can I walk from Pop Century to Epcot?
The short answer to this question is NO.
First, the distance between the resort and Epcot is fairly long. Second, there are no walking paths that connect them. You must either take the bus, a taxi or drive yourself!